Indigenous Women
This blog aspires to connect readers to Indigenous* resources, information, and fun stuff at the Indian Pueblo Cultural Center (IPCC) and online. Each month, new content will be shared on various themes.
March 4, 2021
March is National Women's History Month, a celebration of women's contributions to history, culture, and community. The Educational Task Force of the Sonoma County (California) Commission on the Status of Women started a "Women's History Week" celebration in 1978, in response to the lack of women's history as a topic in K-12 curriculum. In February of 1980, President Carter issued the first Presidential Proclamation declaring the week of March 8th as National Women's History Week.
State Departments of Education encouraged celebrating National Women's History Week, which led some states to develop and distribute curriculum materials to their public schools. By 1986, fourteen states had proclaimed March to be Women's History Month. Congress followed a year later. A Presidential Proclamation is issued every year to honor the extraordinary achievements of American women.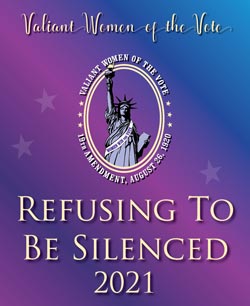 The National Women's History Alliance selects and publishes the yearly theme. With COVID restrictions on the many 2020 centennial celebrations of women's suffrage (the right of women to vote), last year's theme is carried over to 2021, "Valiant Women of the Vote: Refusing to be Silenced."

March 8th. The first International Women's Day (IWD) in the United States was observed on February 28, 1909. Two years later, Austria, Denmark, Germany, and Switzerland celebrated IWD on March 19. More than a million women and men attended rallies to campaign for women's rights to work, vote, be trained, hold public office, and end discrimination. 1975 was the first year the United Nations celebrated International Women's Day. The 2021 theme is #ChooseToChallenge.
Monthly Feature: Indigenous Women
In many tribes, American Indian women had a wide range of roles as leaders, craftswomen, healers, builders, farmers, and warriors. In matrilineal cultures, clan membership and tangible possessions descend through women instead of men. Throughout U.S. history, American Indian women have been expected to assimilate and conform to Western society's standards about women, which includes leadership roles.
Throughout Indigenous communities, though women have been silenced or lack recognition, they have continued to do for their communities in various leadership roles as tribal council leaders, judges, lawyers, educators, activists, and decision makers within and outside their communities. At the foundation of the work that Indigenous women do you will find Indigenous core values such as commitment to community, perseverance through hardships, respect for all things living, and love and compassion for others. Activism takes many forms from artistic and educational efforts, to economic and environmental projects.
This month's blog highlights but a handful of the thousands of Indigenous women who work for the betterment of their tribal communities and who encourage others to reach their potential.
We survive war and conquest; we survive colonization, acculturations, assimilation; we survive beating, rape, starvations, mutilation, sterilization, abandonment, neglect, death of our children, our loved ones, destruction of our land, our homes, our past, and our future. We survive, and we do more than just survive. We bond, we care, we fight, we teach, we nurse, we bear, we feed, we earn, we laugh, we love, we hang in there, no matter what.

– author Paula Gunn Allen (Laguna Pueblo)
---
Debra Haaland
Debra Haaland (Laguna Pueblo-Mesita village/Walatowa/ Norwegian) U.S. Congresswoman, nominee for U.S. Secretary of the Interior
Haaland was born in Winslow, Arizona, to Mary Toya (Laguna Pueblo), a Navy veteran who worked at the Bureau of Indian Education for 25 years and Major J. D. "Dutch" Haaland (Norwegian American), a 30-year officer in the Marine Corps and recipient of the Silver Star (Vietnam). She has been a small business owner, voting rights activist, and 2014 candidate for New Mexico lieutenant governor.
Haaland advocates for the underrepresented. She believes that diversity and representation of women and Native Americans is important. The United States has a government-to-government relationship with Native people; they deserve a voice at the table when policy issues that affect them are being debated. Many issues in Indian country – low-wage jobs, violence against women, lack of education – afflict other groups, too. The teachings of her grandparents and her lived experience influence her decisions. Haaland has a community mindset and feels strongly about environmental stewardship. As one of the first two Native women elected to Congress, she hopes to be an influence for others.
"I will leave the ladder down behind me so girls of color will know they can be anything they want to be." ~El Palacio magazine
Deb Haaland in her words:
"This is the reality that Native Americans have faced for centuries since Europeans colonized the Americas; a reality that resulted in generations of displacement, disenfranchisement, assimilation, poverty, illness and addiction, and the decimation of the land and animals. Many of us have persevered and continue to preserve our culture, our language and our land; as well as to work toward representing ourselves in all levels of government and business, which is why I would like to be that voice in Congress."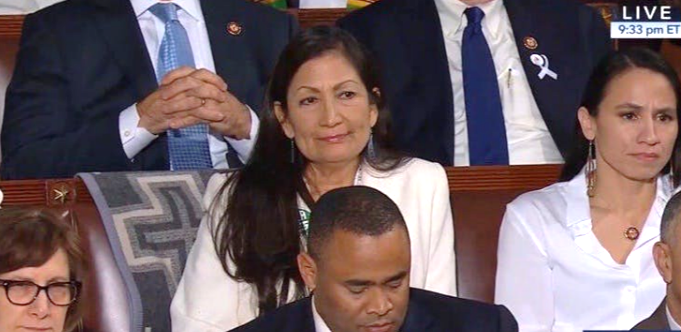 ". . . you probably saw the State of the Union. I took my blanket. it was funny because we all wanted to sit together because we were all the women wearing white. So, we got text messages that said, 'go to the floor at 6:15 and bring something to save your seat.' I had the stack of blankets in my office and I just grabbed one.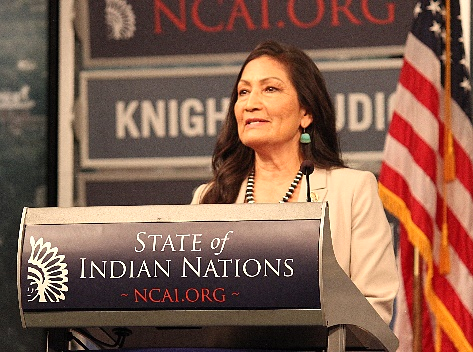 I just feel I want to do whatever I can do to help Indian Country identify with Congress. It's their Congress too. It's not reserved for other folks. It belongs to all of us. I felt like it was important for me to just do that small thing, that would help people identify with us and help them to know that that house belongs to them as well." (Indian Country Today)
"Today, we need a new commitment to the value of community, where all of us have what we need, where what we need is sustainable, and where our children and grandchildren are confident they can build healthy, happy lives with enough resources to sustain their families." (Daily Kos)
" . . . we've been fighting for a long, long time. We've all been carrying our own weight and the weight of our communities. We've all been fighting hard. It's astounding to think that I'm standing here today because of [my grandparents]. They felt it was important to give their children opportunities. So, I don't take that lightly. When I take people with me, it's not like I'm dragging them along or it's a heavy burden. They're ready, right?" (Indian Country Today)
"In spite of our agonizing history, Native American people find much to celebrate. The songs, the dances, the culture and traditions surrounding planting and harvests, the prayers that are sent upward for healing and peace, and the welcoming of children into our families, are all reasons for us to keep moving forward with optimism." (Daily Kos)
The Department of the Interior (DOI) manages public lands and minerals, national parks and wildlife refuges, and upholds Federal trust responsibilities to American Indians, Alaska Natives, and affiliated island communities. The DOI oversees various federal agencies including the Bureau of Indian Affairs, the Bureau of Indian Education, the Bureau of Land Management, the National Park Service, and Fish and Wildlife Service. On March 3, 1849, a bill was passed to create the Department of the Interior to protect and manage the nation's resources and cultural heritage.
The DOI has been led by 52 males and one woman. Once confirmed, Haaland will be the DOI's first Native and woman of color to hold a cabinet position.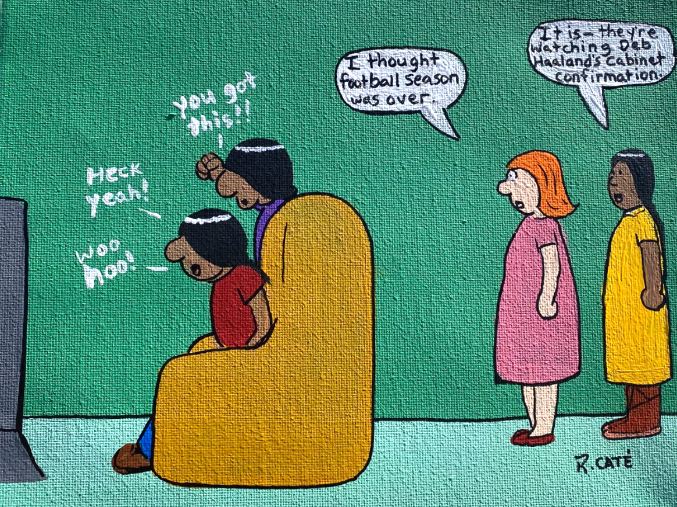 Merata Mita
Merata Mita (Māori: Ngāti Pikiao/Ngāi Te Rangi) New Zealand teacher, film director and producer, activist, and mentor.
Mita's documentaries of the 1970's and '80's highlighted injustices of Māori people. In 1977, Merata worked on her first documentary assisting a Pākehā (New Zealander, non-Māori) filmmaker organize interviews with Māori people.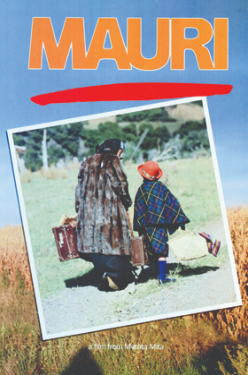 Mita directed Mauri (1988), the first dramatic feature to be written and solely directed by a Māori woman. She worked to decolonize the film and television screens of New Zealand by advocating for accurate representation of Indigenous narratives. Merata helped Indigenous filmmakers tell their stories in a space where stories could be told without the need to over-explain their meaning to white audiences.
Mita was an activist and mentor who supported emerging Indigenous filmmakers that have made an impact: Sterlin Harjo (Muscogee Creek/Seminole), Andrew Okpeaha MacLean (Iñupiaq), Sydney Freeland (Navajo), and Taika Waititi (Māori: Te Whanau a Apanui).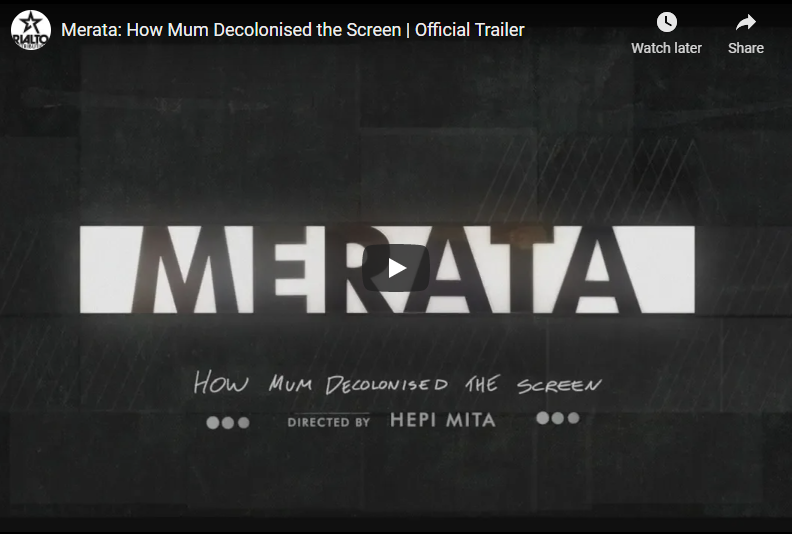 This biographical film from her son, Hepi Mita, chronicles his mother's journey to decolonize the film and television screens of New Zealand and the world. The film documents her work, her early struggles with her family, and her drive for social justice that often proved personally dangerous. The film made its World Premiere at the 2019 Sundance Film Festival. (Array)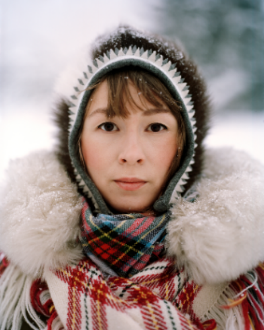 Sundance Institute
Marja Bål Nango (Sámi–Norway), film director, screenwriter, and producer has been awarded the annual fellowship named in honor of Mita (1942-2010). She will be awarded cash grants, access to artist services, and mentorship including participation in the 2021 Sundance Film Festival. Her latest short film with sister, Ingir Bål(co-director and co-writer), titled "The Tongues" (Njuokčamat) has won several awards. She and her sister are working on their first feature film together, "I love my Reindeerherder (Guođoheaddji)." Marja worked as a reindeer coordinator and director assistant for "Sami Blood." Video interview with Marja and Ingir discussing their film, "The Tongues," from the Nordic & Baltic Oscar Contenders 2020 series (January 15, 2021).
Pueblo Women's Oral History
With funding from the National Endowment for the Humanities, the IPCC completed Journeys and Pathways: Oral Histories of Contemporary Pueblo Women in Service, Leadership and the Arts, to create a record of twenty-first century Pueblo women.
Within New Mexico Pueblo communities, women take on a variety of leadership roles. They are activists, artists, teachers, business owners, innovators, tribal officials, and sit on various Boards. They fight for rights, proper recognition, sustainability, resources, and decolonization. They fight against exploitation, encroachment, destruction, abuse, and violence.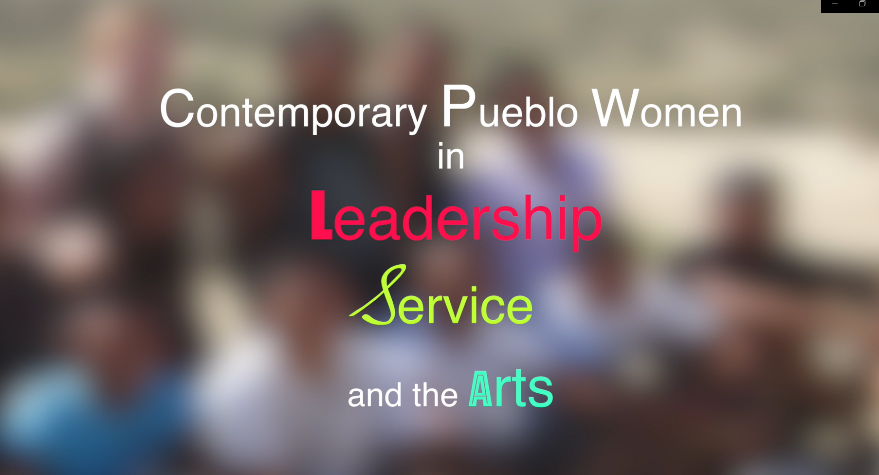 Journeys and Pathways interviewed nineteen Pueblo women to document the stories of their professional lives. A seventy-minute video compilation of the interviews will debut at a later date. These contemporary perspectives add to the archival record of Pueblo perseverance and resilience.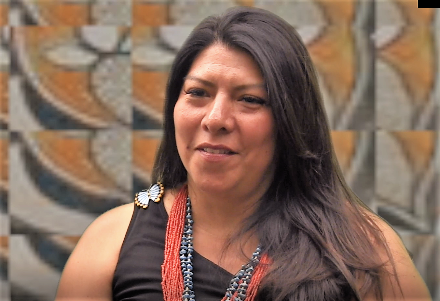 The first interview to debut is Dr. Corrine Sanchez, great-great granddaughter of Tewa potter, Maria Martinez, and San Ildefonso governor, Julian Martinez. She is the Executive Director of:

More interviews and transcripts to come!
Resources

The National Indigenous Women's Resource Center, Inc. (NIWRC) is a Native-led nonprofit organization dedicated to ending violence against Native women and children.
OUR MISSION:Our mission is to provide national leadership to end violence against American Indian, Alaska Native and Native Hawaiian women by supporting culturally grounded, grassroots advocacy.
OUR VISION:Restoration of sovereignty and safety for Native women
The Resource Library at the NIWRC includes materials developed and produced by the NIWRC staff and consultants. These culturally appropriate resources support Tribes, tribal programs, and advocates working on issues of violence against Native women. Resources include webinars, booklets, fact sheets, research papers, videos, toolkits, reports, and training curriculum on topics of Advocacy, Children, Domestic Violence, Family Violence Prevention and Services Act (FVPSA), Heath & Wellness, MMIW, Sexual Assault, Sex Trafficking, Shelter, and Violence Against Women Act (VAWA).
Fun Stuff
Buffy Sainte-Marie (Cree), singer-songwriter, guitarist, educator, advocate, and artist
Buffy became the first Indigenous person to win an Academy Award (Oscar) and Golden Globe for co-writing "Up Where We Belong," a song featured in the film, An Officer and a Gentleman (1982). She is an Order of Canada recipient and has released over twenty albums beginning with It's My Way! (1964). Sainte-Marie is an advocate for education both for and about the Native American Indian community. She founded the Nihewan Foundation for Native American Education.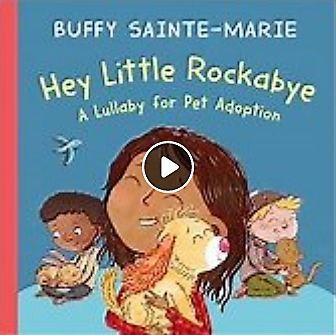 Hey Little Rockabye: A Lullaby for Pet Adoption
The story about a girl and her family considering pet adoption is expanded from a song Sainte-Marie created to welcome animals home. The book, intended for children ages three to seven, includes sheet music so that families can sing along. Hey Little Rockabye also features photos of Sainte-Marie's own rescues: cats, dogs, a horse, and over thirty goats.
"No matter what kind of animal your little rockabye pet is," says Sainte-Marie in a statement, "I hope my song will make you feel loving and cozy together and fill you both with special joy."
In this episode of Sesame Street, which she appeared on for five years (1976-1984), she plays a mouthbow and sings "Cripple Creek," an Appalachian folk song. The mouthbow is the oldest stringed instrument in the world.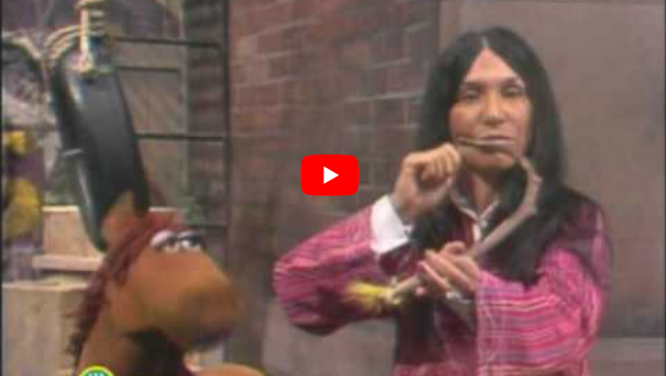 References
Allen, P. G. (1986) The sacred hoop: Recovering the feminine in American Indian traditions. Boston: Beacon Press.
Array. (n.d.) Merata. http://www.arraynow.com/merata
Bird, D. (2019) Leaving the ladder down. El Palacio. https://www.elpalacio.org/2020/01/leaving-the-ladder-down/
Collins, J. (2005) The status of Native American women: A study of the Lakota Sioux. Drake University Social Science Journal, (Spring). https://www.drake.edu/dussj/pasteditions/2005/
Haaland, D. (2017, November 21) Honoring my ancestors. Daily Kos. https://www.dailykos.com/blog/Deb%20Haaland
History.com. (2021, February 22) Women's History Month 2021. https://www.history.com/topics/holidays/womens-history-month
Hopkins, R. (2021, February 20) Buffy Sainte-Marie is an Indigenous icon, singer, and activist. TeenVogue. https://www.teenvogue.com/story/buffy-sainte-marie-teen-vogue-interview
NZ On Screen. (n.d.) Merata Mita. https://www.nzonscreen.com/profile/merata-mita/biography
National Women's History Alliance. (2019) Why March is National Women's History Month. https://nationalwomenshistoryalliance.org/womens-history-month/womens-history-month-history/
NOW Staff. (2020, February 25) Buffy Sainte-Marie is releasing a kids' book about pet adoption. https://nowtoronto.com/culture/books-culture/buffy-sainte-marie-hey-little-rockabye/
Palm Springs International Film Society. (n.d.) The Tongues. https://www.psfilmfest.org/2020-shortfest-archive/2020-shortfest-film-finder-archive/the-tongues
Reilly, K. (2018. October 25) She could be the first Native American woman in Congress. But this single mother says she's 'not exceptional'. Time. https://time.com/5304507/deb-haaland-first-native-american-congresswoman/
Schilling, V. (2019, February 12) Indigenizing Congress: Rep. Deb Haaland talks with Indian Country Today. Indian Country Today.
Ward, K. A. (2007) Before and after the White man: Indian women, property, progress, and power. Connecticut Public Interest Law Journal, 6(2), 246-267. https://cpilj.law.uconn.edu/wp-content/uploads/sites/2515/2018/10/6.2-Before-and-After-the-White-Man-Indian-Women-Property-Progress-and-Power-by-Kathleen-A.-Ward.pdf
Webb-Liddall, A. (2019, May 2) Merata Mita: the godmother of Indigenous film. The Spinoff. https://thespinoff.co.nz/atea/02-05-2019/merata-mita-the-godmother-of-indigenous-film/
*The term Indigenous is used broadly to include those labeled Native American, American Indian, Alaska Native, Hawaiian, First Nations, Aboriginal, and others such as the Sami (Finland) and Ainu (Japan). Native American and American Indian are used interchangeably in this blog.
About the Author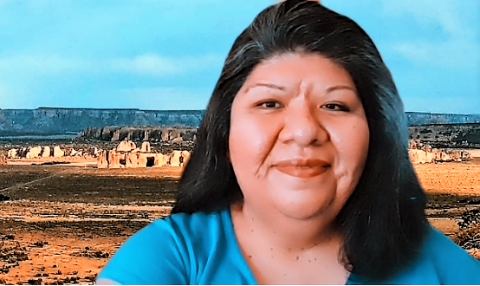 Jonna C. Paden, IPCC Librarian and Archivist, is a tribally enrolled member of Acoma Pueblo. As part of the Circle of Learning cohort, she holds a Masters in Library and Information Science from San José State University where she focused on the career pathway of Archives and Records Management. She is the archivist for the New Mexico Library Association (NMLA) and the 2020 and current Chair for the New Mexico Library Association (NMLA) Native American Libraries – Special Interest Group (NALSIG).