Meeting & Event Space
We look forward to providing you unsurpassed hospitality in our unique cultural surroundings in the coming months. With 24,000 square feet of versatile indoor and outdoor spaces our Center is an unexpected, artistic, and inspiring venue for your next meeting, event, or celebration. Please contact Analisa Aragon at 505-724-3509 to discuss booking a future event at IPCC. Contact us about our virtual events too!
What our customers are saying:
"Please allow us to thank you, Mike Canfield and all your wonderful staff for yesterday's event. It turned out so well, the gifted bread was a hit and very much appreciated, and our guests always enjoy our meetings at IPCC."
– Deborah Corey, Economic Forum
"Everyone loved the food, the service was great and everyone loved the Pottery Room atmosphere. Please thank everyone at the center who made this such an enjoyable evening. We look forward to returning next year."
– Ray, Pajarito Thunderbird Club
"The event was a success thanks to you and your support staff. The venue, food and overall service was amazing. We definitely will consider booking with you again in the future."
-Dorlynn
---
Stay up to date on the latest or give us a review: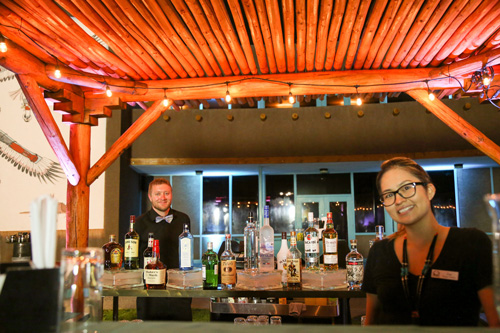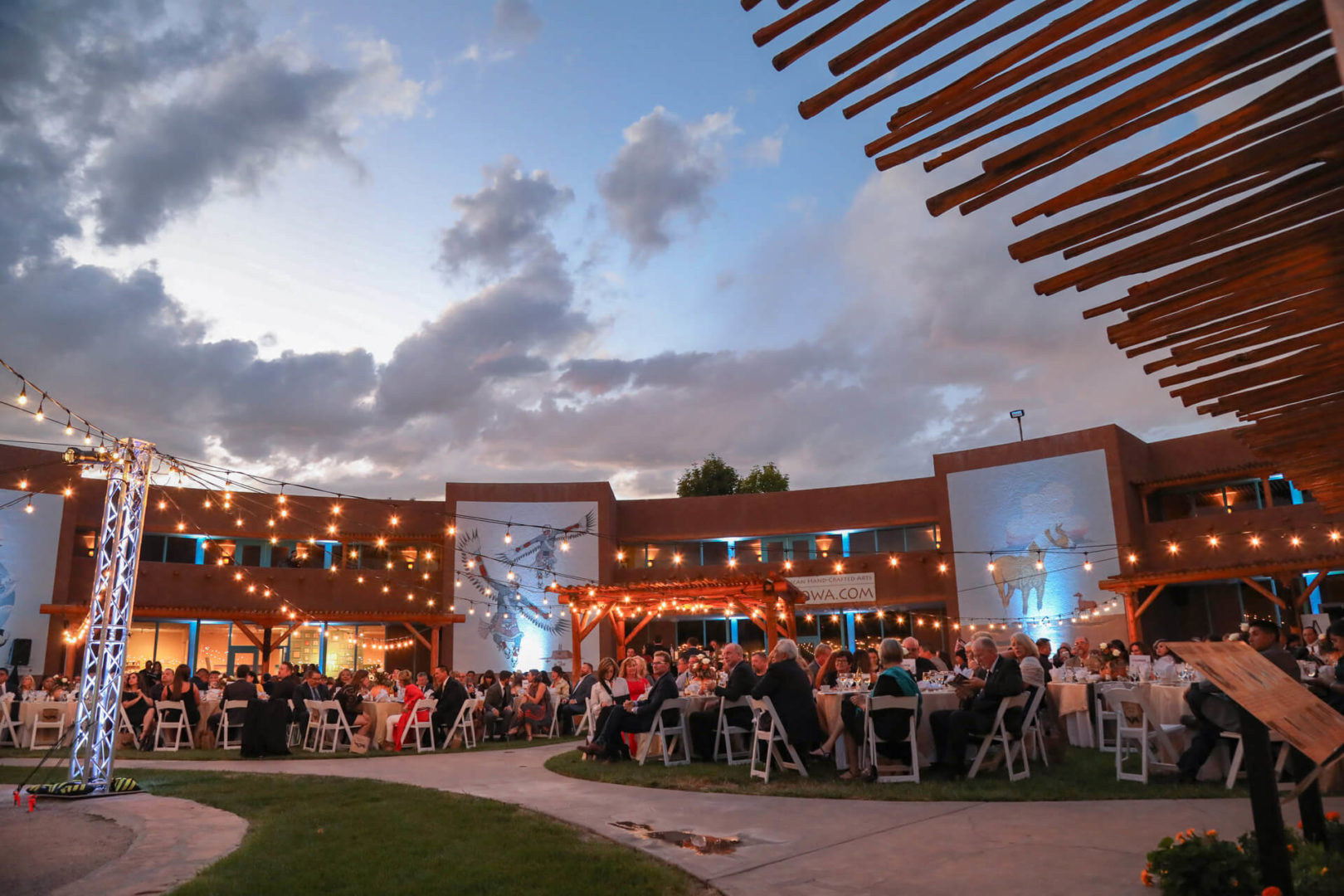 Convenient Location
Convenient location just minutes from Old Town, Downtown Albuquerque, and Albuquerque International Sunport, the Indian Pueblo Cultural Center is the perfect location for your gathering.
Indoor and outdoor meeting and banquet spaces that can accommodate groups as small as 5 and as large as 500
On-site catering and personalized menu planning from our acclaimed culinary team.
Rentals available including linen, centerpieces, and AV equipment
Memorable photo opportunities among our one-of-a-kind collection of murals, art, and pottery
Complimentary parking for your guests
Opportunities for experiencing Native American culture, including museum and mural tours, and cultural Native American dance and music performance
Contact us about our virtual events too!
Want to book the Indian Pueblo Cultural Center for your next meeting or event? Call 505-724-3509
360º Videos
Click and drag in the video to view in any directions of each space!
Silver and Turquoise Ballrooms
Wrapped in Native American artwork, this space cultivates creativity and ingenuity. This ample meeting space is a classic setting for your meetings, trainings, and celebrations. Located across from the restaurant, this space is ideal for a group size 20-120. It comes equipped with state-of-the-art AV equipment, including a drop-down screen, in-room sound system, and LCD projector*. The existing stage provides a focal point for your presentation needs. Contact us to book today! 505-724-3509
Chaco I & II Ballrooms
This fundamental space is fitting for any type of event, from general sessions to wedding receptions. Our main ballroom (Chaco I/II) includes three drop-down screens, overhead projectors, and an AV Tech Booth.* This location is optimal for group sizes from 30-200. Elevate your event by adding in one of our custom décor packages. Contact us to book today! 505-724-3509
Chaco III Ballroom
Chaco III is functional for your breakout meeting, board meeting, or conference office. It is an excellent locale for a group of 10-50, and is equipped with a drop-down screen and LCD Projector.* Contact us to book today! 505-724-3509
Private and Pottery Ballroom
This warm and cozy room is the perfect setting for your networking event, small meeting, or reception. The exquisite pottery wall represents all 19 Pueblos of New Mexico, and adds elegant décor to your event. Located above our restaurant this room is perfect for a group size of 25-100. The private balcony provides breathtaking views of the Sandia Mountains. The existing furniture allows for guests to enjoy their cocktail around a glowing fire. Contact us to book today! 505-724-3509
The Patio
Enjoy the large patio with walls on in the winter and off in the summer. It includes a stage, lighting, dance floor, fireplace, host station, bar, and more! Contact us to book today! 505-724-3509
Indian Pueblo Cultural Center's Courtyard
Located in the heart of the Indian Pueblo Cultural Center, this space offers culture, tradition, and dramatic architecture under a wide New Mexico sky. Surrounded by seven murals illustrating traditional dances, the courtyard is an excellent setting for your outdoor event. The existing dance circle can be used for a traditional Pueblo dance, or your first dance as a wedded couple. Contact us to book today! 505-724-3509
Indian Pueblo Cultural Center's Sculpture Garden
Balcony of the Indian Pueblo Cultural Center
---
Contact us to book today! 505-724-3509
Meeting & Event Space Inquiry