Albuquerque Balloon Fiesta® RV Camping at the Indian Pueblo Cultural Center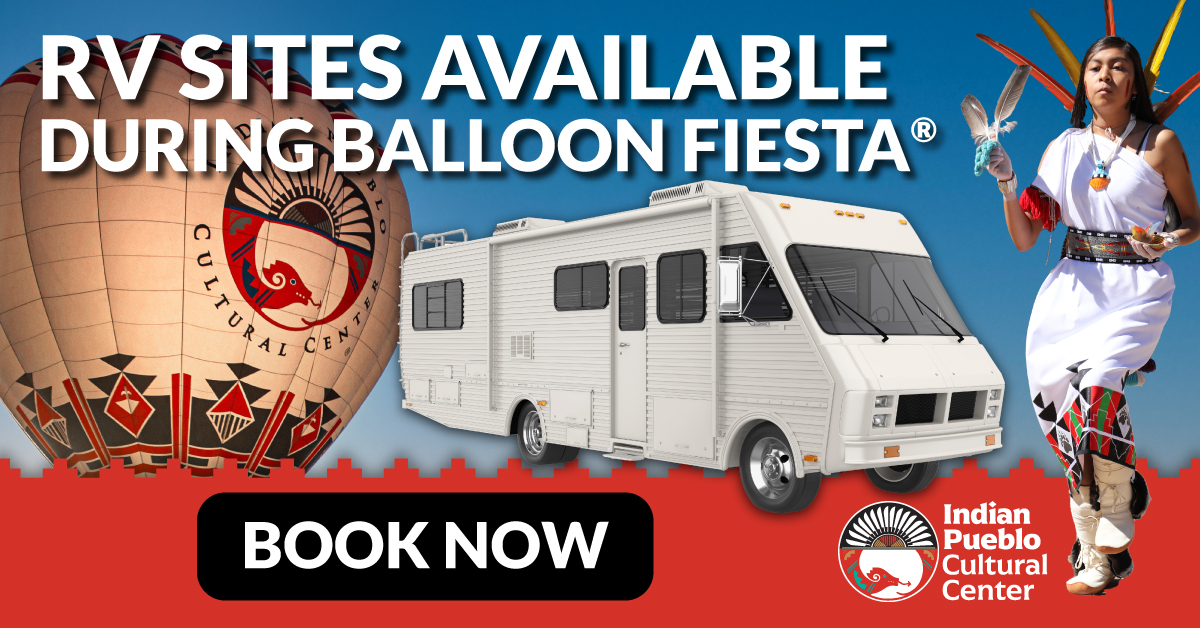 New for the 50th Anniversary of the Albuquerque International Balloon Fiesta®, the Indian Pueblo Cultural Center will be offering a limited number of exclusive dry dock RV camping sites in the beautiful Avanyu Plaza, located in 12th Street's thriving business and cultural district, in the heart of Albuquerque. These will sell out fast so make your reservation today! Additionally, we have some exciting add-on packages to choose from that include coupons to all of the business at IPCC and Avanyu Plaza and much more. See packages below. Book your RV Camp site at the Indian Pueblo Cultural Center during the Balloon Fiesta® today!
Questions? Contact Marianne Billy at 505-212-7033 or Elizabeth Herrera at 505-451-2841
Available RV Site Reservation Add-ons:
Eyahne Add-on ($50):
Indian Pueblo Cultural Center's Hot Air Balloon swag includes tote bag, two admission tickets to museum and cultural events, and coupon pack for campus restaurants and stores. Book Your RV Site Now
Kiva Add-on ($200):
All items included with the Eyahne add-on along with membership for two to the Indian Pueblo Cultural Center (good for 1 year), all-access badge to visit the museum and events for the duration of your stay; one authentic Pueblo Pottery mug. Book Your RV Site Now
Oct. 3-5 from 4-8PM: Evenings at Avanyu will include a balloon glow by IPCC's hot air balloon, Eyahne On The Horizon each night (weather permitting) at Avanyu Plaza, across the street from the Indian Pueblo Cultural Center! There will also be cultural dances, Native artisans and farmer vendors, S'mores-flavored cookies (offered for purchase by Rude Boy Cookies), and appearances by Big 98.5 radio personalities. Free and open to the public. Thanks to Comcast for its support of Evenings at Avanyu!
Balloon Fiesta Week® at the Indian Pueblo Cultural Center is filled with events and activities you won't want to miss! Featuring Daily Native American Dances, the Albuquerque American Indian Arts Festival, Self-guided Tours, Exhibits, and more. See full the schedule of events for more details.
Looking for RV Camping in Albuquerque during Balloon Fiesta®? Most RV Parks nearby are sold out but we still have RV sites available!
This is an amazing opportunity to stay in your RV, in Albuquerque for this beloved event. So, what are you waiting for? Book your RV site, and get ready to make some memories!
Experience Pueblo culture, art, food, dance, history and more when you book an RV site during Balloon Fiesta® week at the Indian Pueblo Cultural Center
Map of the RV Sites in Albuquerque and Nearby Area
If you are looking for RV Sites in Albuquerque, New Mexico, this is THE place to book your stay! Our RV Camp sites are filling up so don't wait to book yours.