Shop and Explore
Indian Pueblo Store
Owned and operated by the 19 Pueblos of New Mexico, we're proud to be your connection to Pueblo and Southwest Native American art. Come along on a journey with us to learn, explore, and shop! See our latest blog posts.
The COVID-19 pandemic has affected businesses everywhere, including ours at the Indian Pueblo Cultural Center and Indian Pueblos Marketing, Inc. Due to statewide restrictions designed to help mitigate the spread of the virus, the difficult decision was made to temporarily close the physical location of the Indian Pueblo Store. Free curbside pick-up is available when shopping online.
We want to thank our employees and everyone who stopped by to visit and shop with us, and remind you that you can still shop online anytime at IndianPuebloStore.com, and we're more than happy to continue to offer personal service and help you find the perfect item over the phone, just call 505-724-3506. Stay tuned to our Facebook and Instagram accounts for updates, photos, cultural insights, and more. Subscribe to our newsletter. We look forward to seeing you in person again in the coming months.
Fans and friends of the Indian Pueblo Cultural Center can continue to support our Mission of celebrating Pueblo culture and providing economic opportunities by doing the following:
Engaging with our Virtual Culture Guide found at IndianPueblo.org
Supporting Native American artisans by shopping online at com
Donating to the Pueblo Relief Fund via org
Supporting current IPCC digital programming and future in-person programming by donating to the IPCC general fund at https://indianpueblo.org/donate/
Shopping at the Four Winds ultimate convenience store (located on 12th Street just north of I-40)
Enjoying delicious food from our Avanyu Plaza tenant restaurants: Sixty-Six Acres, Laguna Burger, and Domino's
Owned and operated by the 19 Pueblos of New Mexico, the Indian Pueblo Store was founded in 1976 as a place to gather and showcase work from Pueblo and Native American artists from the Southwest. We guarantee your purchase is an original and authentic work handcrafted by Native American artists as defined by the Indian Arts and Crafts Act of 1990, and every work of handcrafted art comes with a Certificate of Authenticity signed by an artist or buyer. Learn more. Visit the Indian Pueblo Store online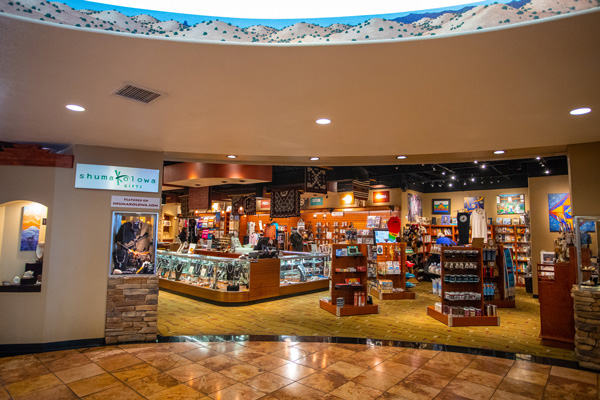 In addition to our one-of-a-kind art pieces, the Indian Pueblo Store is also a resource for:
Native American food products
Homewares and accessories
Pueblo Pottery Mugs
Books & music centered on Native American themes
Gifts for any occasion
Apparel, and so much more
Wholesale/Bulk Buying
Interested in offering handcrafted items in your location? Contact us for our special program.
Indian Pueblo Store is located inside
the Indian Pueblo Cultural Center.