Archives Month
October 4, 2021
With cooler mornings and the gathering of the harvest, fall is in the air. And so are the hot air balloons. The Albuquerque International Balloon Fiesta has begun and Eyahne on the Horizon, the Indian Pueblo Cultural Center's beautiful hot air balloon featuring symbolic Pueblo designs, will make its debut. Download and print a coloring page of the balloon.
October is American Archives Month and National Book Month. Read on to learn more about archives and archivists, and several collections in the IPCC Library and Archives Special Collections. Celebrate book month by sharing a book or reading to a child.
Monthly Feature: Archives
#ArchivesMonth
What is an archive? An archive is a place to find information – facts, data, and evidence – in the form of letters, diaries, reports, photographs, maps, posters, audio and video recordings, and other primary sources. Archives keep documents that serve as historical proof and explanation of how and why something happened.
There are all sorts of archives. From collections of small family archives – photos in an album, a file cabinet of documents, a shoebox of concert tickets, a chest of clothing, and so on – to large organized and preserved collections in a city, state, or national institution. There are a range of archives: historic societies, and special collections centered on a church, business, hospital, or sports, as well as those dedicated to a particular person, people, or event.
Some New Mexico archives are the State Records Center & Archives and the UNM Center for Southwest Research and Special Collections. The New Mexico Digital Collections is a central portal for digital collections about New Mexico. #NMArchives
What is an archivist? An archivist assesses, collects, organizes, preserves, maintains control of, and provides access to saved records of lasting value. Archivists help people find and understand the information in records. Archivists are trained to properly care for, repair, and preservation of historical materials.
Who uses archives? The IPCC Library & Archives assists IPCC staff, students, educators, journalists, writers, and researchers – anyone who wishes to learn more about Pueblo and other Native tribal history and present.
IPCC Collections
The IPCC Library and Archives is the only Special Collections Research library dedicated to the historical and contemporary life of Pueblo people and communities. We have some magnificent collections to help you learn our history, see how we have been portrayed and the historical narrative has been framed, understand our viewpoint and our battles, and hear our voices. #NMArchives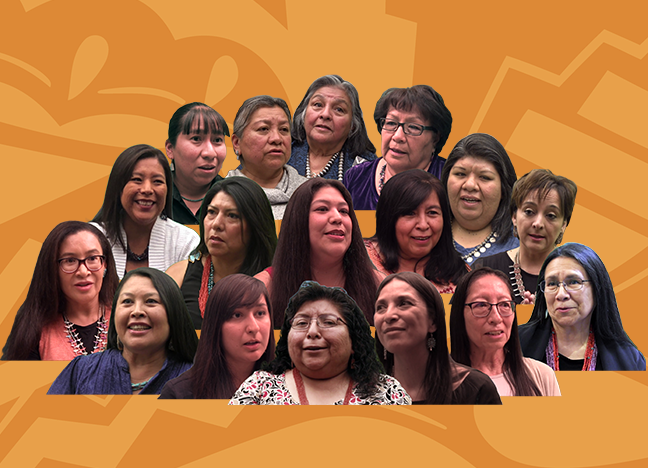 Making its online debut is Journeys and Pathways: Oral Histories of Contemporary Pueblo Women in Service, Leadership, and the Arts. Twenty Pueblo women from thirteen Pueblos representing a range of occupations were interviewed about their childhood, their chosen career, and their journey to the present.
Stay tuned! The video of Journeys & Pathways is forthcoming, as well as the remaining video interviews and transcripts.
A conversation between Dr. Beverly Singer (Tewa/Santa Clara and Navajo), John Jota Leaños, and Borderless Cultures curators, Emmanuel Ramos Barajas and Annette Rodriguez, explores the telling of alternative Pueblo peoples' histories while imaging new Indigenous representation in popular media. They discuss Native Resistance, resilience, and storytelling as explored through Leaños short 2014 film, Frontera! Revolt and Rebellion on the Rio Grande and Singer's documentary of the Journeys and Pathways Oral History Project and her 2017 short film The Blank Stare at the Movie "Indian".
Postcard Collection – Over 2,100 historic black and white and color images of the Pueblos, the Apache and Navajo, News Mexico national parks and monuments, trading posts, and various places in Albuquerque.
Vertical Files – Newspaper articles on the Pueblos, Pueblo artists, and a range of topics from the American Indian Movement (A.I.M.) and archaeology, to legislation and land, to St. Catherine's School and sports, and tourism to water.
Theses and Dissertations Written by Pueblo scholarsTopics about Pueblo communities – historical and contemporary American Indian policies and institutions
The Library holds over 5,000 books, some no longer printed or available anywhere else. Come visit the Library & Archives to help you with your research project!
October 11: Indigenous Peoples Day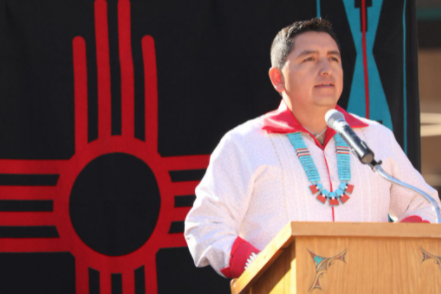 In 2019, New Mexico Rep. Derrick Lente (Sandia and Isleta Pueblos) introduced legislation to officially change the second Monday in October to Indigenous Peoples Day.
We are of this place; we are fortunate to have remained here. We have lived on and cared for our homelands since time immemorial. Our teachings, language, food, spiritual beliefs, and cultural values and traditions make us unique people.
On Indigenous Peoples Day, the 23 tribes and nations in New Mexico celebrate our resiliency through centuries of change and we share our traditions that we have and continue to maintain. Every day we celebrate our continuance as Indigenous communities and the contributions to society that have made and will continue to make.
View the 2020 Indian Pueblo Cultural Center Virtual Indigenous Peoples Day.
Teaching Resources
Using Sources for Research
Primary sources are information based on direct or firsthand experience about an event, person, or object. Primary sources often reflect the individual viewpoint of a participant or observer. Examples are autobiographies, interviews, surveys, diaries, letters, photographs, speeches, artifacts, documentaries, and articles and materials published at the time.
Secondary sources are materials created by someone who did not witness or participate in an event or time period. Secondary sources describe, discuss, interpret, analyze, evaluate and summarize information found in primary sources. Examples of secondary sources are biographies, films, reference and textbooks, reviews, and magazine newspaper articles written sometime after an event.
The National Archives provides Educator Resources for document analysis – the first step in working with primary sources. Worksheets teach students to find context and extract information from different types of archival materials to make an informed judgment.
Worksheets for Novice or Younger Students
Worksheets for Intermediate or Secondary Students
References
National Archives. (201, August 15) What's an Archives? https://www.archives.gov/about/info/whats-an-archives.html
National Archives. (2017, May 10) What's an Archivist? https://www.archives.gov/about/info/whats-an-archivist.html 
National Museum of American History. (n.d.) What are archives? Smithsonian. https://americanhistory.si.edu/archives/about/what-are-archives
Santiago Canyon College. (n.d.) Identifying primary and secondary resources. https://sccollege.edu/Library/Pages/primarysources.aspx#:~:text=Examples%20of%20secondary%20sources%3A%201%20Bibliographies%202%20Biographical,Works%20of%20criticism%20and%20interpretation%20More%20items…%20
Society of American Archivists. (2007) What is an archives? http://files.archivists.org/advocacy/AAM/WhatIsAnArchives.pdf
*The term Indigenous is used broadly to include those labeled Native American, American Indian, Alaska Native, Hawaiian, First Nations, Aboriginal, and others such as the Sami (Finland) and Ainu (Japan). Native American and American Indian are used interchangeably in this blog.
About the Author Jonna C. Paden, Librarian and Archivist, is a tribally enrolled member of Acoma Pueblo. As part of the Circle of Learning cohort, she holds a Masters in Library and Information Science from San José State University where she focused on the career pathway of Archives and Records Management. She is also the archivist for the New Mexico Library Association (NMLA) and previous (2020) and current Chair for the New Mexico Library Association (NMLA) Native American Libraries – Special Interest Group (NALSIG