Talking Turquoise with Expert Joe Dan Lowry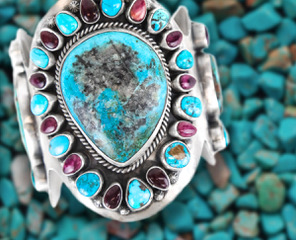 Turquoise is an iconic symbol of Southwest style, in large part because turquoise beads have been made in the Southwest for thousands of years. The Ancestral Pueblo people, ancestors of today's Pueblo tribes, mined turquoise in Arizona, New Mexico, and Colorado. Chaco Canyon, a major Ancestral Puebloan center, was at the center of turquoise trade routes stretching from the Pacific Northwest to Central America.
Turquoise was not set in silver until the late 19th century when Zuni and Navajo artisans learned metalsmithing. The blue and green gem quickly became a favorite with Native American silversmiths, and was extremely popular with tourists visiting the Southwest in the early 20th century. Some Native Americans believe the gem was a gift from the spirits and call it the Sky Stone. Today, turquoise is one of the most iconic representations of the Southwest, and is still revered among Native American jewelry artists and collectors.
Joe Dan Lowry is one of the foremost experts on turquoise. His family has been involved in the turquoise trade for generations, and he has authored books on the subject, given countless lectures and presentations, and even established the popular Turquoise Museum located in Albuquerque, New Mexico.
Watch our exclusive video interview with Joe Dan Lowry, retrieved from our archives by popular demand.