Of Hummingbirds and Hope: Radon Daughter Soothes the Yellow Dragon

---
The Laguna Pueblo village of Paguate, New Mexico is the place Laguna and Zuni artist De Haven Solimon Chaffins calls home. The village hugs the lava-topped mesa that forms the eastern slopes of Mt. Taylor, a dormant stratovolcano. Paguate also sits in the shadow of a large uranium mine, a fact that has shaped her life as much as the tractors and blasting have reshaped the landscape around the long-abandoned yet still-problematic mine.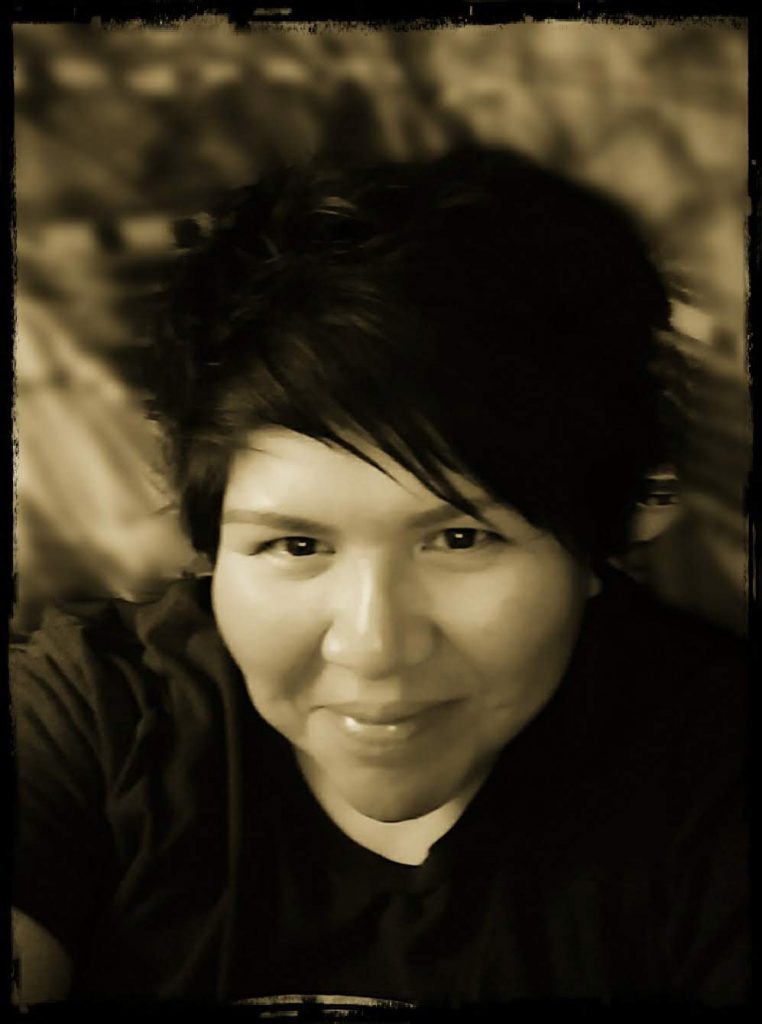 Her Radon Daughter exhibit in our Art Through Struggle Gallery illustrates both her struggle and success coming to terms with the personal and lasting effects of living near the Jackpile-Paguate Uranium Mine, currently designated a Superfund Site by the Environmental Protection Agency.
De Haven hopes that sharing her artwork, and talking about her experience, her loss, her resilience, and her optimism, will bring comfort and catharsis to others.
"My grandpa James always fed children when they came to the house," De Haven says. "He knew people were struggling to put food on the table. His intentions were good. He had empathy because he knew what it was like to go without food. Both of his parents passed away from illness in Zuni Pueblo when he was child, so he also knew the meaning of loss.
"That's one of the reasons I really wanted to do this exhibition, because that's where I come from, wanting to help somebody else out. The ramifications from the uranium mine, I mean right now a lot of people have health issues, such as high rate of cancer, and it's just so sad and tragic. I just try to make sense of it all, and just try to help people at the same time."
Caregiving is an integral part of De Haven's character. Growing up surrounded by hardship and loss, she often sought out opportunities to comfort others. Prior to going to school for art, she wanted to study Mortuary Science.
"I really wanted to do that because I felt like I could be of service to people," De Haven says. "I know as being Native American that it's maybe like a taboo-type of thing, but for me, I lost a lot of people. We lost a lot of great people, amazing people, and I just felt like I could help them in some way, and be a comfort, and give back to whoever needed my help."
The thought of aiding people respectfully with their transition to the next world and providing comfort to the families was something that appealed greatly to De Haven, which led her to inquire about internships and spend a full day at a funeral home in Grants, New Mexico.
"I stayed there for the whole day, and we helped out with an older woman," she says. "It was so beautiful, I mean, just to help and make sure she was presentable, and take care of the family and the people who came to her service. It was just really touching. It was one of the most inspiring times of my life. I'll never forget that.
"Mortuary Science is what I really wanted to do, but then they didn't have any kind of program here in the state of New Mexico—you'd have to leave and go somewhere else."
With her family wanting her to stay close to home, De Haven passed on pursuing Mortuary Science, and on being accepted to East Coast and West Coast art schools, instead earning her Associate of Fine Arts from the Institute of American Indian Arts in 1990, and a Bachelor of Fine Arts from the University of New Mexico in 1995.
If you would like to help support our mission to preserve and perpetuate Pueblo culture, and support programming like the Art Through Struggle Gallery, please consider making a gift to IPCC today.
The Art Through Struggle Gallery is a unique space for creating dialogue on difficult subjects, a place to talk about the realities of what it is to be Pueblo, to be Native American, living today with the atrocities of both the past and present constantly surrounding us.