Native Women's History Month
This blog aspires to connect readers to Indigenous* resources, information, and fun stuff at the Indian Pueblo Cultural Center (IPCC) and online. Each month, new content will be shared on various themes.
March 4, 2023
This month's blog highlights Pueblo women of the Journeys & Pathways Oral History Project and Pueblo women leaders who work for the betterment of their tribal communities and who encourage others to reach their potential.
March is National Women's History Month, a celebration of women's contributions to history, culture, and community.
In many tribes, American Indian women had a wide range of roles as leaders, craftswomen, healers, builders, farmers, and warriors. Today, American Indian women hold various leadership roles on the tribal council, as judges, lawyers, educators, activists, and decision makers within and outside their communities. Activism takes many forms from artistic and educational efforts, to economic and environmental projects. At the foundation of the work that Indigenous women do, you will find cultural values, care for community, and resilience.
This month's blog highlights Pueblo women of the Journeys & Pathways Oral History Project and Pueblo women leaders who work for the betterment of their tribal communities and who encourage others to reach their potential.
---
Journeys & Pathways Oral History Project
---
Twenty Pueblo women representing thirteen pueblos were interviewed as part of the "Journeys & Pathways:Contemporary Pueblo Women in Leadership, Service, and the Arts" Oral History Project. Each woman talks about their childhood and family, the pathway that lead to their occupation, the importance of mentorship, and provide advice to younger women.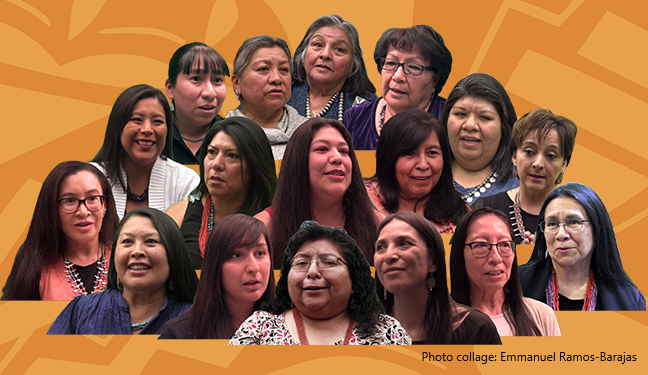 Jenni Monet (Laguna Pueblo), award-winning investigative journalist on Indigenous Affairs and Indigenous rights and injustice in the U.S. and around the world. Read her articles here. Sign up for her newsletter, Indigenously: Decolonizing Your Newsfeed.
Norman Naranjo (Ohkay Owingeh) and her husband, Hutch, run The Feasting Place, a catering and educational program centered on traditional Pueblo foods. There they teach others to make traditional Pueblo food using traditional Pueblo agricultural practices.
Norma is also the author of The Four Sisters: Keeping Family Traditions Alive, which is a collection of recipes and stories of her life in Ohkay Owingeh.
Representation matters. Founded in May 2006 by Dr. Debbie Reese (Nambé Owingeh), the American Indians in Children's Literature (AICL) blog educates readers about Native peoples and provides critical analysis of children's books, lesson plans, films, and topics related to American Indians and/or how lessons about Native people are taught in school. On YouTube: Native Voices in Children's Literature (Sept 2021).
Phoebe Suina (Cochiti and San Felipe Pueblos), founder and owner of High Water Mark (HWM), LLC, a 100% Native American, woman owned environmental consulting company. Utilizing a consensus-based approach, she works to address infrastructure projects and initiatives that incorporates traditional and local knowledge with science-based planning, engineering, and project management solutions. Combining tradition with since, she has successfully managed multi-million-dollar infrastructure projects and initiatives for Los Alamos National Laboratory, Pueblo communities, and New Mexico cities and towns.
---
Pueblo Women Leaders
---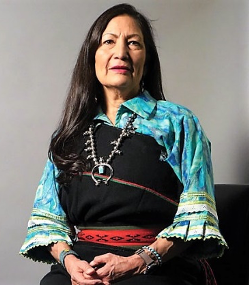 Deb Haaland Laguna Pueblo-Mesita village/Walatowa/ Norwegian) U.S. Secretary of the Interior
Haaland was born in Winslow, Arizona, to Mary Toya (Laguna Pueblo), a Navy veteran who worked at the Bureau of Indian Education for 25 years and Major J. D. "Dutch" Haaland (Norwegian American), a 30-year officer in the Marine Corps and recipient of the Silver Star (Vietnam). She has been a small business owner, voting rights activist, and 2014 candidate for New Mexico lieutenant governor.
The Department of the Interior (DOI) manages public lands and minerals, national parks and wildlife refuges, and upholds Federal trust responsibilities to American Indians, Alaska Natives, and affiliated island communities. The DOI oversees various federal agencies including the Bureau of Indian Affairs, the Bureau of Indian Education, the Bureau of Land Management, the National Park Service, and Fish and Wildlife Service. On March 3, 1849, a bill was passed to create the Department of the Interior to protect and manage the nation's resources and cultural heritage. 
The DOI has been led by 52 males and one woman. Haaland is the DOI's first Native and woman of color to hold a cabinet position.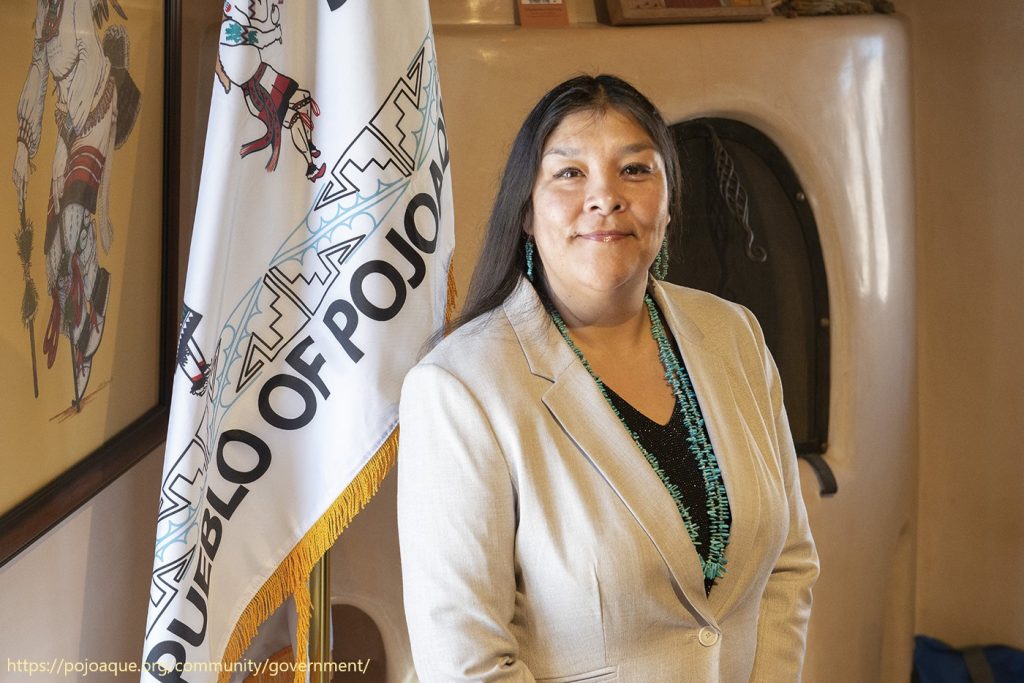 Jenelle Roybal (Pojoaque Pueblo) is the first woman to serve as governor of Pojoaque Pueblo in 50 years. She had been the Lieutenant Governor since 2015 and has worked for her pueblo since 1994.
She attended Northern New Mexico College and graduated with an associate's degree in Business Administration Management.
---
About the Author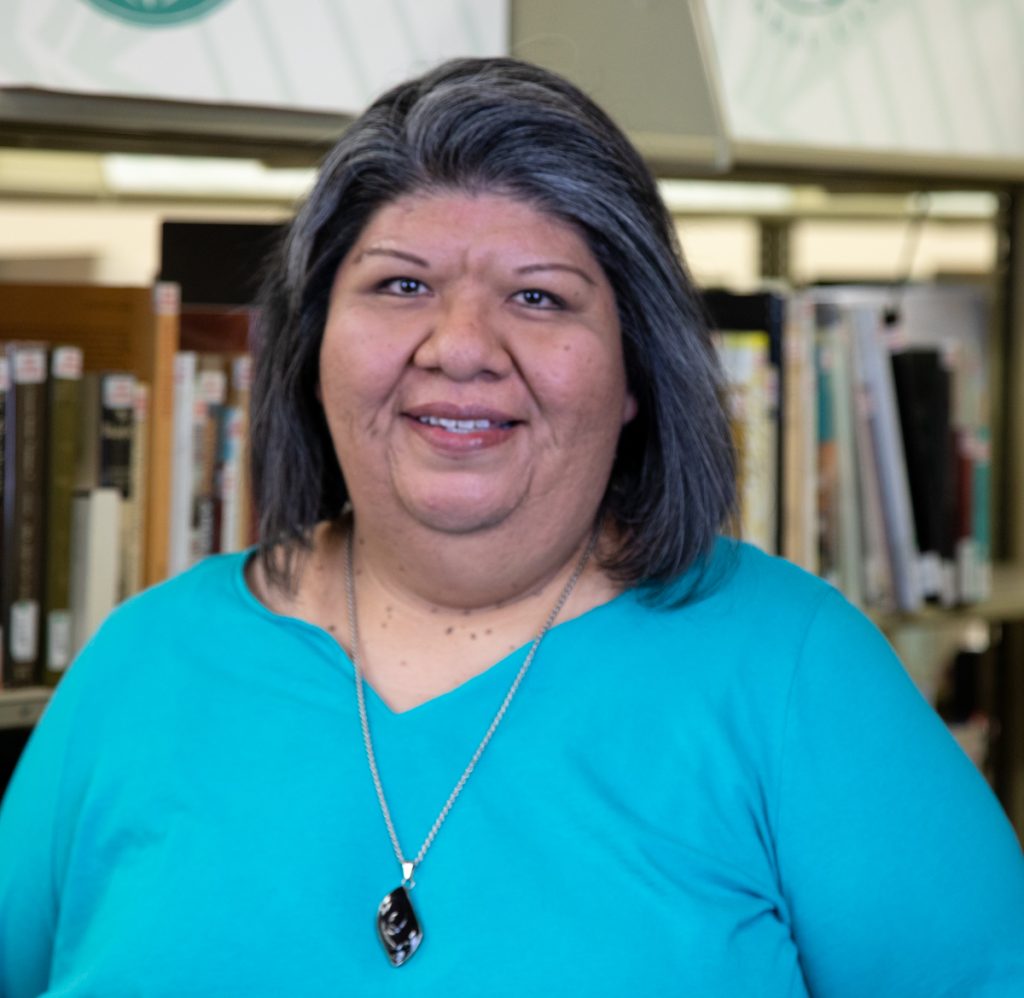 Jonna C. Paden, IPCC Librarian and Archivist, is a tribally enrolled member of Acoma Pueblo. As part of the Circle of Learning scholar cohort, she earned a Master of Library and Information Science from San José State University in Archives and Records Management. She completed a B.U.S. focused on English, Linguistics, and Native American Studies at the University of New Mexico. Since 2020, Jonna has been the Chair of Native American Libraries, a Special Interest Group (SIG) of the New Mexico Library Association (NMLA). She is the current archivist for the NMLA and an active member of the NMLA Archives & Archivists SIG, American Indian Library Association, and the Society for Southwest Archivists as part of the Diversity & Outreach Committee.