In 'Toon with Cartoonist Ricardo Caté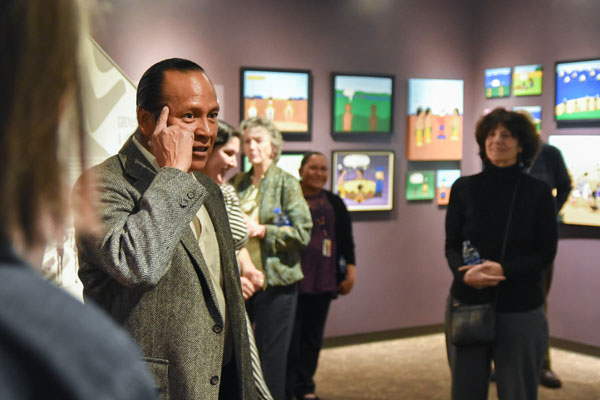 Ricardo Caté of Santo Domingo/Kewa Pueblo is known for Without Reservations, the only Native American cartoon featured in a mainstream daily newspaper, which currently runs in the Santa Fe New Mexican and Taos News. A witty, engaging, and provocative exhibit featuring Ricardo's works is showing in the Art Through Struggle Gallery inside the Indian Pueblo Cultural Center (IPCC) now through Jan. 6, 2019.
"Right now, Without Reservations is the number one cartoon in Santa Fe," says Ricardo. "Of the thousands and thousands of Santa Fe New Mexican readers, 80 percent are non-Native. This is a Native cartoon. I mean, how did that happen? When you're three times more popular than Peanuts, I start thinking, 'wow!'"
He grew up influenced by the cartoons of Don Martin and Sergio Aragonés in Mad Magazine, and uses humor to show aspects of Native American life, comment on current and historical events, and to just make people laugh.
"Ricardo Caté is truly a treasure – first he makes me laugh, then he makes me think," says Monique Fragua (Jemez Pueblo), Vice President of Commercial Enterprises at IPCC. "Mr. Caté has a truly unique way of looking at life and connecting all backgrounds to the very real struggles of Native America. This is something we work to achieve at our center through the exhibits and stories that we share."

"The Art Through Struggle Gallery is a unique space for dialogue on difficult subjects," says Rachel Moore (Hopi), Curator of Exhibitions. "It's a place to talk about the realities of what it is to be Pueblo, to be Native American, living today with the atrocities of both the past and present constantly surrounding us. Whether universally funny, niche funny, or controversial, Ricardo's works in this exhibit reflect personal and shared experiences, making these difficult dialogues both accessible and authentic."
Ricardo is quite the Renaissance man, and his background reads like an epic road movie. He is a cartoonist, activist, stand-up comedian, writer, teacher, veteran, former college athlete, tribal official, four-time Dakota Access Pipeline protestor at Standing Rock, and was even homeless for a short time in the 1980s.
"The comics are unique perspectives, from not just Native, but the struggling person's perspective," says Ricardo, whose celebrity fans include Wes Studi, Jackie Chan, Winona LaDuke, Denzel Washington, Nick Nolte, Taboo from the Black Eyed Peas, and Dennis Banks, co-founder of the American Indian Movement.
Ricardo creates around 300 cartoons a year for the Santa Fe New Mexican, plus others that he just feels inspired or compelled to create – many of these impromptu ones appear on his Facebook page. He estimates there are around 4,000 cartoons in his catalog.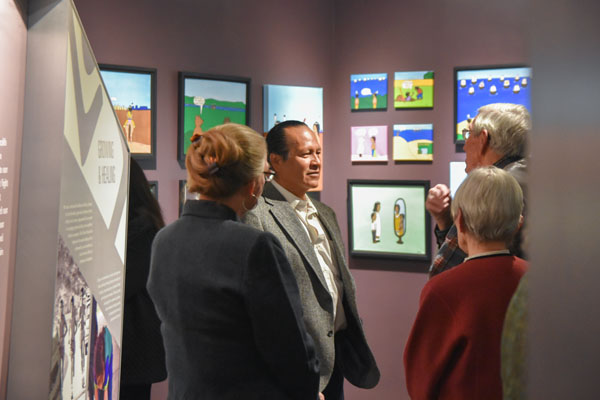 Coming up with so much material isn't difficult, he says, as he's inspired by a wide range of sources in daily life: commercials, lectures he attends, alternative or sarcastic responses to real-life statements or questions, personal interaction, history, and current events.
"Oh my gosh, the guy who's in charge of our country right now," Ricardo says, "He gives me plenty of material because I can't make up half the stuff that he says or does – it's a gift. For cartoonists and humorists, he's a gift – a nightmare for the rest of everybody else – plenty of material there."
The Art Through Struggle Gallery exhibit features both published and unpublished works from throughout the timeline of Ricardo's portfolio, many of which are exclusive paintings on loan from a private collection.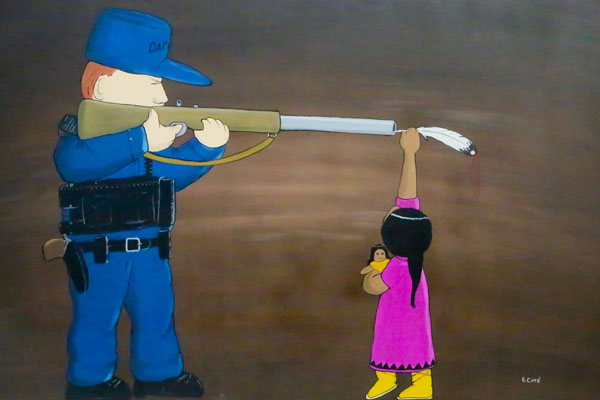 WE ASKED RICARDO HOW THE IPCC SHOW IS DIFFERENT OR SPECIAL, COMPARED TO HIS OTHER SHOWS.
Ricardo: "First of all, there's the geography, because my cartoon's up in Santa Fe, and for it to be gaining attention southward, towards Albuquerque, it's big for me. And that's without trying. I'm not trying to come up with these shows here and there, I just get invited. Number two, it's at the Pueblo Cultural Center, and not too many respectful places left for Native art. I'm afraid, because I've been to those places, and I've talked, and they expect me to dress a certain way, to talk a certain way . . ."
IPCC: "Like a Tonto routine?"
". . . yeah, and this is where I get to be myself. Because I'm Pueblo I'm actually contributing to what this place stands for. It's just different to me. It's almost like coming full circle, coming home to my roots. This is the Indian Pueblo Cultural Center. And the people that walk through here, people have no idea who we are, what's going on, and they get to learn about it. So during that time when my stuff is on display, those same people, tourists who don't normally go to shows to collect Indian stuff, they wind up here, and it's those people I would like to get feedback from. I want to know what those people think, because I want to take this nationwide, and it's those people I'd be writing for, too, and I recognize that."
Ricardo's long-term goals include national syndication, establishing a scholarship fund at Santo Domingo Pueblo, and winning a Pulitzer Prize for Editorial Cartooning.
A selection of t-shirts and prints of Ricardo Caté's works is available through the Indian Pueblo Store.