Indigenous Wisdom Curriculum Downloads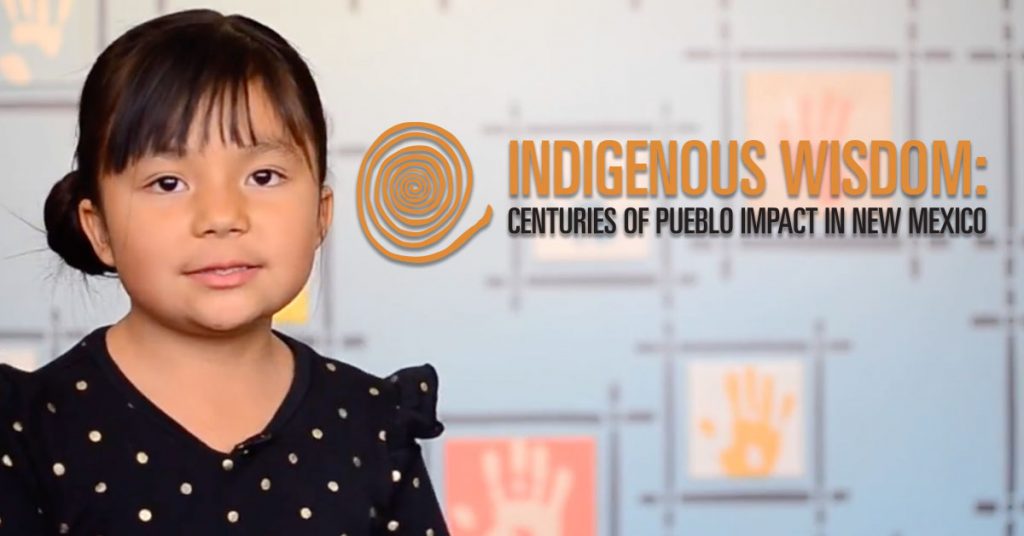 Purpose of the Pueblo-Based Curriculum
To strengthen identity of Native American children in New Mexico by developing and piloting K-12 curriculum and to provide all educators with thoughtful unit plans on the complex political, social, cultural, and economic history of the Pueblo Indian Nations of New Mexico, between 1912 and 2012.
The Context of the Curriculum
The curriculum serves as a counter-narrative to the presentation of the history of New Mexico presented in our schools today. At the center of the curriculum are concepts and core values that have operated as vehicles for resistance, emancipation, and transformation for Pueblo people as part of maintaining our cultural integrity and exercise of sovereignty, all in the face of colonizing measures taken by Spain, Mexico, and the United States. The Leadership Institute at the SFIS is the primary source for the timeline work and concept development to this project.
Goals of the Curriculum
The curriculum will help K-12 teachers educate their students about the factors and conditions that shaped key relationships: government-to-government; community-to-community; culture-to-culture, and person-to-person, throughout historical periods of turmoil and peaceful coexistence. This resource will guide instruction that enhances self-esteem and identity, encourages guidance by ethical considerations, acknowledges concern for others, and incorporates an overall global perspective. Finally, we seek to promote Indigenous students and their teachers to become intellectually aware of the critical roles of Pueblo People in exercising agency as they meet (and continue to meet) the imposition and challenges of federal and state policies upon sovereign tribal entities.
Download Indigenous Wisdom Curriculum
Please fill out the form and click submit to enable the curriculum download links.
School Visit Resources
We want your classroom to enjoy an inspiring and successful visit to the Indian Pueblo Cultural Center. To make the most of your visit, please read our Pre-Visit Information.
Support this Project
Would you like to support the Indigenous Wisdom Curriculum: Centuries of Pueblo Impact in New Mexico project? DONATE TODAY