INDIGENOUS CULTURAL ARTS FESTIVAL – JUNE 4 & 5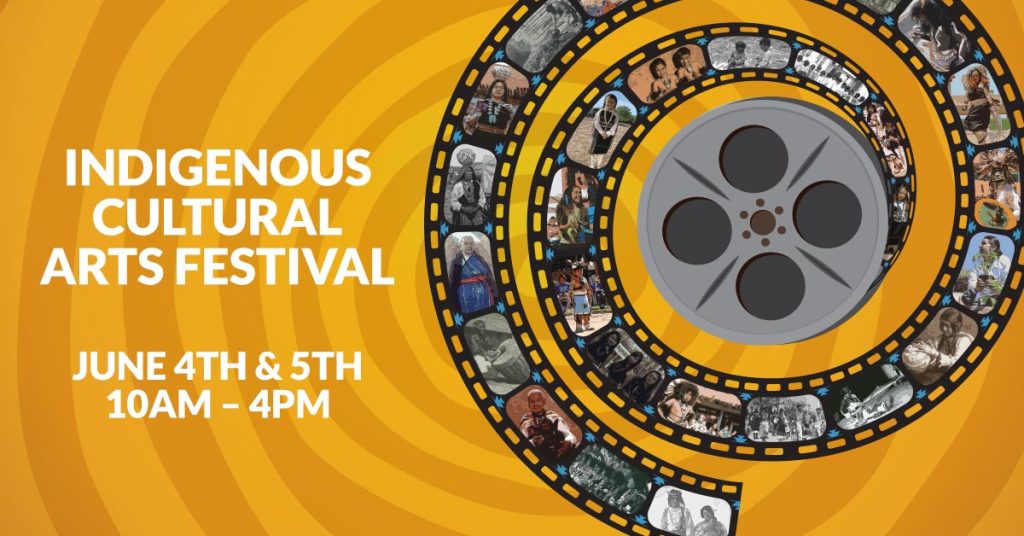 See schedule of events below. Get tickets here.
Culture, community, and heritage. These terms and concepts have been used to differentiate the many different civilizations of the Western Hemisphere to recognize, and distinguish, one from another. Indigenous civilizations, for generations upon generations, have developed and perpetuated their distinctive designs and motifs which they can rightfully claim as their heritage.
Human creative expression has taken a multitude of forms and media. From the earliest evidence of petroglyphs and pictographs, to exquisite realism, and now, digital art, human creativity and imagination have continued to erase the boundaries of what constitutes 'art'. Yet, the fundamental message art portrays is that 'art' is a visual story. The story is the principle premise.
Our Indigenous Cultural Arts Festival incorporates the storytelling premise through digital, film, dance, and music for performers and producers to be stewards of the Indigenous narrative, to celebrate and proclaim their unique interpretation of culture, community, and heritage.
SCHEDULE
FILM SCREENINGS & FILM DISCUSSIONS
SILVER & TURQUOISE ROOMS 
SATURDAY, JUNE 4th
10–11:30AM CAPTURED CULTURE: Documentary Storytelling
FILMS: "Hózhóogo Iiná – Homeopathy for IndigenousAmerica – Leahn Cox, "Three Generations: A Family ofArtists" (preview) – Dawning Shorty
PANELISTS: Dawning Shorty, Kelly Byars, Carey Tully
12–2PM BACK TO THE BASICS: Discussing the Art Behind Cinema
FILMS: "Native Realities" – Jody McNicholas, "iColores"Richard Caté, ""Diyin-Holy" No "Project"" – Carrie House
PANELISTS: Aaron Estrada/Crafty Apes VFX, Carrie House
2:30–4PM THE SUSTAINABILITY OF CULTURE– Preserving the Past into the Future
FILMS: "ABQ Drone Reel – Christopher Walker,""Nahasdzáán" – Natalie Benally", "HoweverWide the Sky: Places of Power" – Pamela Pierce
PANELISTS: Christopher Walker, Natalie Benally
SUNDAY, JUNE 5th
10–11:30AM THE NEXT GENERATION OF STORYTELLERS
FILMS: IAIA Student Films and Student Short Films
PANELIST: Mark Duran/CNM Ingenuity, Students
NOON–2PM THE POWER OF PERSEVERANCE– Women Behind the Camera
FILMS: "The Edge"- Michelle Tomlinson, "Séng Wah" – Natalie Benally,"Hózhóogo Iiná – Homeopathy for Indigenous America" – Leahn Cox,"Three Generations: A Family of Artists" (preview) – Dawning Shorty
PANELISTS: Michelle Tomlinson, Natalie Benally, Carey Tully
SCHEDULE OF PERFORMANCES JUNE 4TH & 5TH 
IPCC COURTYARD – SATURDAY & SUNDAY
Dance and Music Performances
10AM Andrew Thomas (Navajo) Flute Performance
11AM Cellicion Traditional Dancers (Zuni) Dance Performance
12PM Ria Thundercloud (Sandia/Ho-Chunk) Dance Performance
1PM Fontenelle Family Dance Group (Zuni/Northern Cheyenne) Dance Performance
2PM Cellicion Traditional Dancers (Zuni) Dance Performance
3PM Yellow Bird Indian Dancers (Apache) Dance Performance