From Mud Pies to Masterpieces: The Chronicle of Clarence Cruz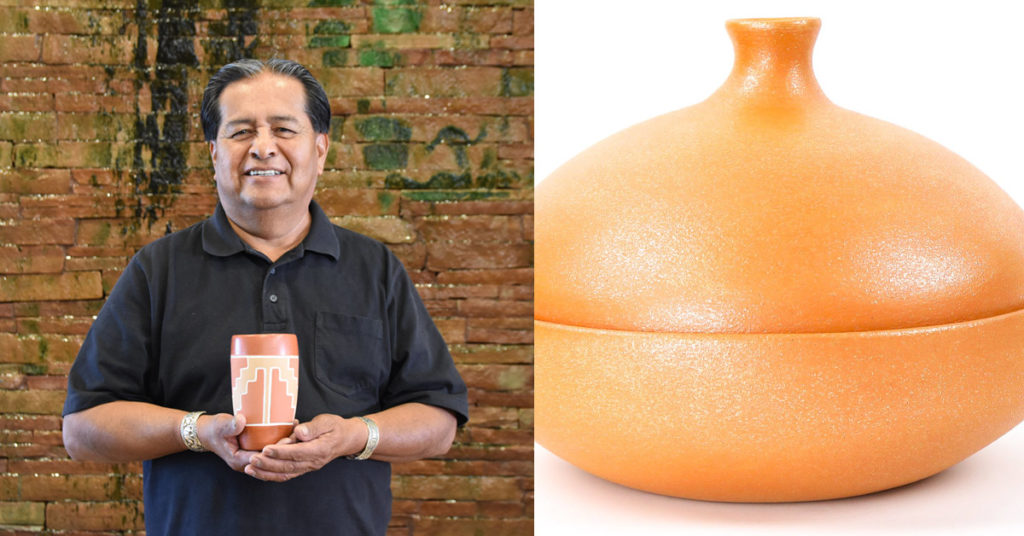 There's an old familiar adage stating that no matter the task or journey, you've got to start somewhere. "I first started out with mud pies in the ditch," Clarence Cruz says with a hearty laugh. (See Clarence's bio and shop his pottery here >)
"I come from a family of potters, and they're no longer here. It's just my sister and me. She's the one who said, 'Clarence, you need to get going on this.' Her name is Bernadette Cruz Aguino, and my godmother is Felicita Montoya Garcia, whose mom is Tomasita Montoya, one of the revivalists of the older styles of Ohkay Owingeh under Regina Cata. The need to bring it back within the family was there, let alone the community. That's how I started."Now an Assistant Professor of Studio Arts at the University of New Mexico, Clarence is a well-known and award-winning pottery artist and instructor from Ohkay Owingeh Pueblo. He began making pottery at 10 or 11 years of age, but worked with the clay only occasionally and casually for close to another decade.
The years right after high school is the time when everything changed. "It was a calling. I was made to do it," Clarence says. "Something deep down inside was like, 'Clarence, you need to do this, to bring it back."
The influence of community and family potters left an impression on Clarence early on, like their fingerprints in the moist clay they pinched and coiled. "They were always making pots in the morning. They lived close by and they always came into the house…where I grew up in Ohkay Owingeh. All the aunties would come in and make pottery. I always thought they were making tortillas [laughs], hearing the patting back and forth, and I was hungry [laughs]. As I moved on in age and grew up, I was dabbling in clay here and there, but as I grew older, it was 'I need to do this.'"
That calling seemed to come from somewhere beyond just Clarence and his sister. "With me, it's not just about me, it's about who my pieces represent: my people, where I come from," he says.
Clarence credits his abilities to having some of the best teachers. He studied under his godmother, Felicita Montoya Garcia; Mary Lewis Garcia, daughter of renowned Acoma potter Lucy Lewis; and many other artists.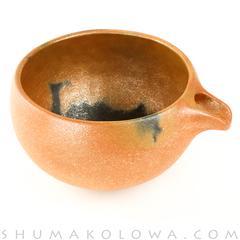 The Pueblo core values of reciprocity and gratitude perhaps run even deeper for Clarence than the call of the clay. He carries with him the gratitude for all those who have taken the time to teach him. "I always give honor and praise to them in everything I do, and when I talk about pottery, they're not left out—they're always mentioned. I give thanks for them sharing and giving me the knowledge to continue what I do, and also at the same time, passing it on to those who are willing to learn. I'm giving back in that way."
"It's a lot of giving, but it always comes back in a good way," he adds. "In the time of need from the community, or outside of your own community, Indigenous peoples might need a particular piece for a particular reason. It's not always about selling the piece, it's always about what the piece represents, and for the purpose—there's always a purpose."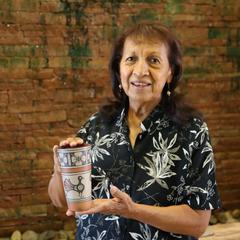 Through the university, cultural centers, and other programs, Clarence has certainly found his purpose, estimating that he's taught between 800 and 900 students how to make pottery.
Students usually approach him with more than a casual or passive interest. "It's just that something down deep inside, whether it's family who used to do pottery, or the need of a pot for a particular purpose within the communities not being seen or done, that's why they come looking for individuals like me who share that knowledge with them."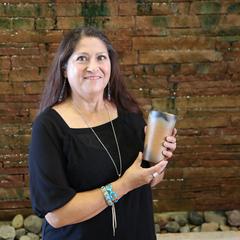 Occasionally, Clarence will see a student who's already an accomplished potter. He always asks, "Why are you coming to me?" The answer is always that they're there to learn a different technique or method, such as creating pottery with micaceous clay. He has even taught fellow Pueblo Pottery Mug artists Martha Romero and Helen Bird.
Clarence has bestowed his knowledge of pottery-making to Native and non-Native students alike. Pueblo potters collect clay from ancestral sources within their own pueblos, which isn't an option for people who aren't members of that specific pueblo. When working with students from any cultural background, Clarence takes them to different locations on Bureau of Land Management or Forest Service lands to learn about and collect natural clay.
Regardless of a student's cultural background, Clarence desires them to carry on the Pueblo core value of reciprocity. "My hopes when they acquire the knowledge and skills from any one of us who are willing to share that, is that they pass on that knowledge also, and give it back in another way."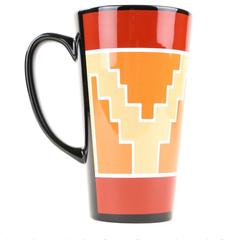 With all of the time devoted to teaching others, Clarence still finds time to be creative for his own needs. To cut out distractions, he works in his basement studio with no windows, no clocks, no concept of day or night—only the creative mind. "I just work until my wife comes down and says, 'Do you know what time it is?!' That's when I have to stop, and sometimes it's two or three o' clock in the morning."
One of the creative endeavors Clarence found time for was the Pueblo Pottery Mug project. As with all of the pottery mug artists, he found creating the exact size and shape challenging.
"Well, it took me about eight tries. The shrinkage, the cracking on the bottom, because cylinders are hard to make," he says. "It was just getting the right size and making it happen. When it happens, it will happen in its own time, not my time. Saying prayers and asking for guidance in it to come out, to represent my people from my home. But it was fun, I enjoyed it. It was a great exercise."
Clarence hopes that the international distribution of the mugs will pique people's interest and inspire them to learn more about the pueblos—their arts, history, and culture. He is proud to represent his pueblo and people with his traditional Ohkay Owingeh design.
"I feel honored and blessed to share that. It's not every day that you're asked to make something for a particular purpose, one which will also assist the 19 different pueblos and the IPCC."
See Clarence's bio and shop his pottery here >.
Additional background on the Pueblo Pottery Mugs:
In January 2015, five Pueblo potters, Erik Fender (San Ildefonso), Elizabeth Medina (Zia), Frederica Antonio (Acoma), Patricia Lowden (Acoma), and Robin Teller (Isleta), were commissioned by the Indian Pueblo Store to create traditional Pueblo pottery in the form of a contemporary coffee mug, which could be replicated.
The popularity of the mugs prompted the commission of a second series of Pueblo Pottery Mugs, this time with designs by Martha Romero (Nambé), Carlos Laate (Zuni), Denise Chavarria (Santa Clara), Helen Bird (Santo Domingo), and a collaboration from Lisa Holt (Cochiti) and Harlan Reano (Santo Domingo).
Series two debuted with Martha Romero's design just before Christmas 2017, with the others being released at intervals through mid-February 2018. Series three debuted in October 2018 with mugs from Juanita Fragua (Jemez), Clarence Cruz (Ohkay Owingeh), Natalie Sandia (Jemez), Myron Sarracino (Laguna), and Hubert Candelario (San Felipe). The goal is to eventually have potters from each of New Mexico's 19 Pueblos produce a mug design representing their pueblo.
The originals for series one through three are on display at the Indian Pueblo Store, located inside the Indian Pueblo Cultural Center. All of the participating artists receive royalties for each mug sold, with proceeds also supporting the Indian Pueblo Cultural Center and the 19 Pueblos of New Mexico.