Pueblo Book Club: 'An American Sunrise' Poems by Joy Harjo (Muskogee)
@ Online
Tuesday
11.24, 2020

02:00 pm - 04:00 pm MST
This Book Club will be hosted by Jon Ghahate.
By Joy Harjo Poet Muscokee/Creek Laureate of the United States (Guest Participant)
An authentic account of NM's Pueblo peoples and their culture is a principle aspiration in their taking ownership in the telling of their history. This is also true of other indigenous communities of the United States. 'An American Sunrise Poems', by Joy Harjo, Muskogee/Creek poet/musician and the 23rd Poet Laureate of the US, is a poetic narrative of her Muskogee people, who were forcibly removed from their aboriginal homelands in the 1680s. This poetic narrative exemplifies of how the Muskogee peoples keep relevant their culture, core values, social constructs, and inter-connectedness with their world.
Purchase this book at the Indian Pueblo Store online here >>
To RSVP for this Book Club, fill out this registration form . We will send you a link and password to join the Zoom webinar.
The deadline to register is the day before the event. Nov. 23, 2020 11:59 PM
While this is a free event, there is a $5 suggested donation. You can donate here.
Thank you for participating in our virtual Pueblo Book Club. Each participant is important and valued, we welcome your participation. Below is the outline and etiquette for our book club.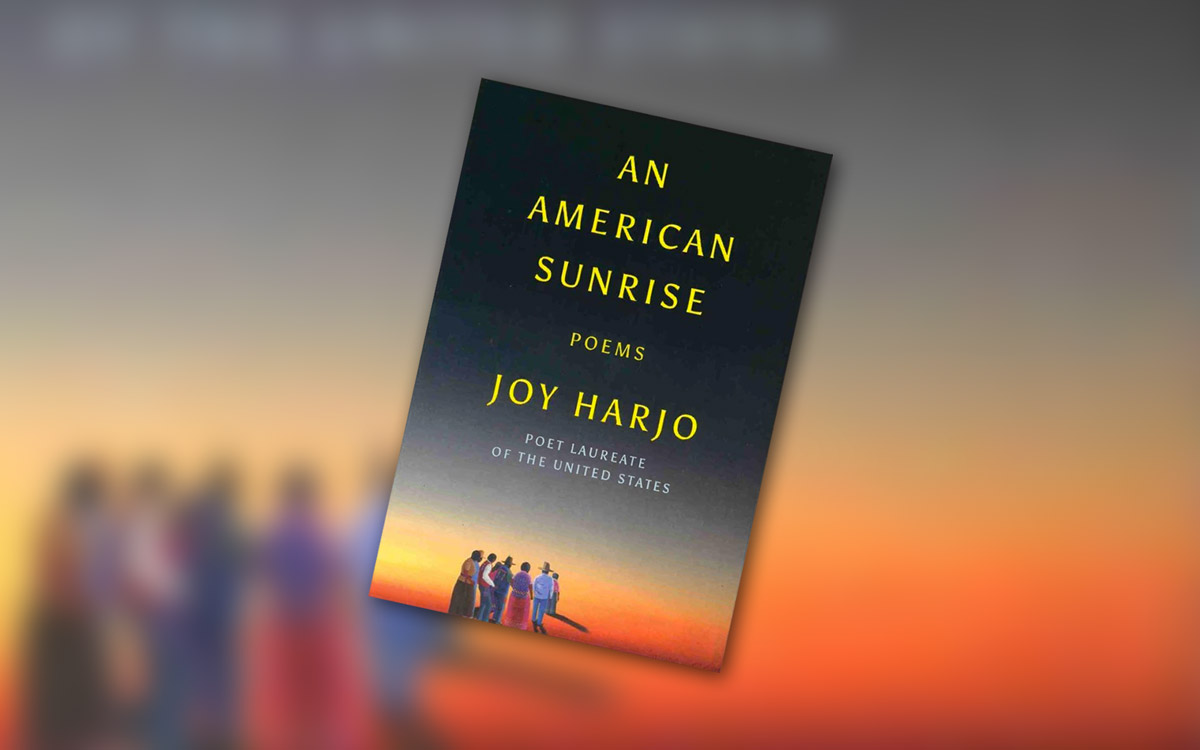 More Details, Zoom Outline, and Etiquette
Joy Harjo, the 23rd Poet Laureate of the United States, is a member of the Mvskoke Nation and belongs to Oce Vpofv (Hickory Ground). Harjo is the author of nine books of poetry, including her most recent, the highly acclaimed American Sunrise (2019), and Conflict Resolution for Holy Beings (2015), which was shortlisted for the Griffin Prize and named a Notable Book of the Year by the American Library Association. Her memoir, Crazy Brave, was awarded the PEN USA Literary Award in Creative Non Fiction and the American Book Award.
She has published two award-winning children's books, several screenplays, anthologies, and collections of prose interviews, and three plays. She is Executive Editor of the recently released anthology When the Light of the World Was Subdued: a Norton Anthology of Native Nations Poetry. As a musician performing solo and with her band, the Arrow Dynamics, Harjo has produced five award-winning music albums including Winding Through the Milky Way, for which she was awarded a NAMMY for Best Female Artist of the year. She is a chancellor of the Academy of American Poets, Board of Directors Chair of the Native Arts & Cultures Foundation, and holds a Tulsa Artist Fellowship. She lives in Tulsa, Oklahoma.
Website: www.joyharjo.com