IPCC's Family Story Time
@ Children's Area of Museum
Saturday
11.25, 2023

01:00 pm - 02:00 pm MST
IPCC's Family Story Time focuses on themes that align with Pueblo core values, including the importance of family, respect, storytelling and harmony with nature. These events will utilize picture books (including those by Indigenous authors), along with supplemental books, songs, poems and simple crafts. Sponsored by the IPCC Volunteer Program.
When: Novermber 11th and 25th, 1-2PM
Where: IPCC's Museum Children's Reading Area by the Joe Sando display
How: Check in at either Guest Service's desk to receive a Story Time sticker
Who: For all ages. Children will need to always have adult supervision and as always, no food or drinks inside the Museum.
In honor of Veterans Day on Saturday, November 11, our topic is "Service to Others", and the book title will be Chester Nez and the Unbreakable Code: A Navajo Code Talker's Story.  Vietman veteran and Artist Gary Keene (Acoma, Diné) will be our guest storyteller. Like the veterans, each child will get a complimentary Pueblo cookie from the Indian Pueblo Kitchen after Story Time has ended.
On Saturday, November 25—Thanksgiving weekend—our theme is "Family", and the book titles will be Fry Bread, A Native American Family Story and Forever Cousins. After Story Time has ended, each child will get fry bread from the Indian Pueblo Kitchen, compliments of the IPCC Volunteer Program.
Free admission for children and an adult family member.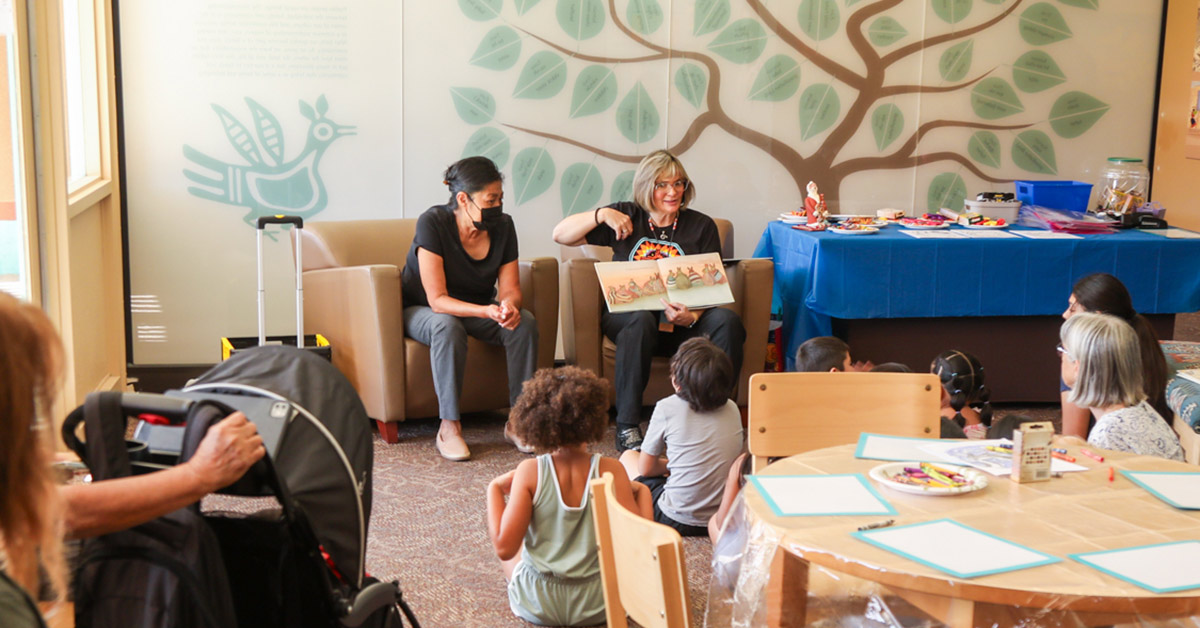 A small sample of the skills developed when children attend Story Time sessions:
Increases vocabulary and overall brain development. Improves attention, concentration and listening skills.
Increases creativity and imaginative thinking.
Social and communication skills development and most importantly, it is fun, and children get to spend quality time with an adult who is important to them-YOU!
Contact Carol Chorniak at Cchorniak@indianpueblo.org 505-843-7270 ext 3550