AMERICAN INDIAN WEEK 2023
@ IPCC Courtyard
Monday
04.24, 2023

09:00 am - 04:00 pm MDT
Daily Artists in the Courtyard
Dances Monday – Friday at 11am, 12pm, 2pm & 3pm
American Indian Week and the Spring Arts Market are two of the most anticipated events here at IPCC. There is something for everyone – during American Indian Week, you can see cultural dances several times daily, take a self-guided tour of our permanent and temporary exhibits, dine at the Indian Pueblo Kitchen and shop with us at the Indian Pueblo Store. Plus, there are dozens of Native artists you can meet and buy from directly!
The last weekend of American Indian week is a must for Native art lovers. More than 40 artists will be on site selling pottery, jewelry, paintings, and other beautiful works of art. Enjoy cultural dance groups hourly, plus live art demonstrations by Prudy Correa – Acoma (pottery) and Jennifer Garcia – San Felipe (jewelry).
Free for museum members, or with paid admission.
See the schedule of dances below.
Free for museum members, or with admission.
Select Date and Get tickets here.
Become a member here.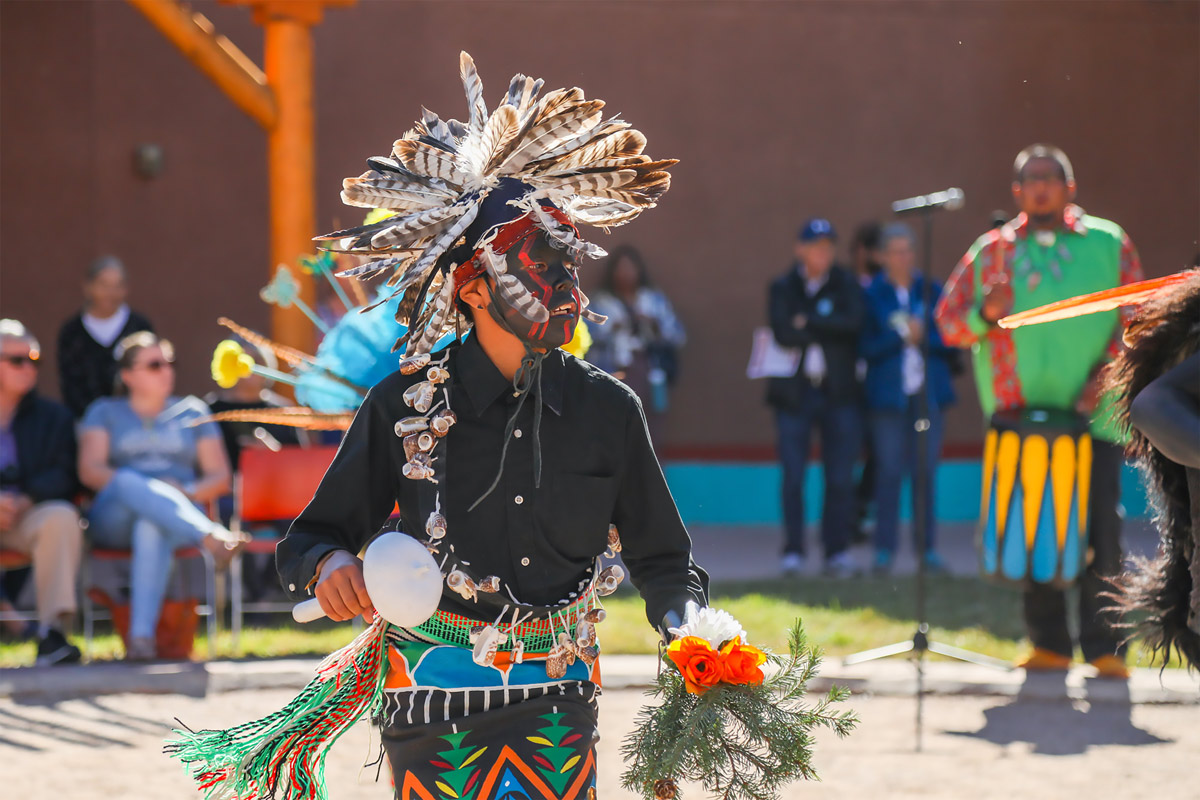 American Indian Week and Spring Arts Market Dance Schedule
strong>American Indian Week Dance Schedule 4/24 – 4/28
| | | |
| --- | --- | --- |
| 4/24 | 11am & 2pm | Water Strider Dance Group (Zuni) |
| 4/24 | 12am & 3pm | Sky City Buffalo Ram Dancers (Acoma) |
| 4/25 | 11am & 2pm | Water Strider Dance Group (Zuni) |
| 4/25 | 12am & 3pm | Pueblo Dance Group (Laguna, Acoma, Zuni, Hopi) |
| 4/26 | 11am & 2pm | Kaltonaka Dance Group (Chichimeca Mexica Azteca) |
| 4/26 | 12am & 3pm | Ryedale Largo Dine Dance Group (Navajo/Apache) |
| 4/27 | 11am & 2pm | Kallestewa Dance Group (Zuni) |
| 4/27 | 12am & 3pm | Anshe Ko'hanna Dance Group (Zuni) |
| 4/28 | 11am & 2pm | Cellicion Traditional Dancers (Zuni) |
| 4/28 | 11am & 2pm | Howeya Family Traditional Dance Group (Acoma) |
Spring Arts Market Dance Schedule 4/29 and 4/30
| | |
| --- | --- |
| 10am | Anshe Ko'Hanna Dance Group (10am) Zuni |
| 11am | Cellicion Traditional Dancers (Zuni) |
| 12pm | Pueblo Dance Group (Laguna, Acoma, Zuni, Hopi) |
| 1pm | Soaring Eagle Dance Group (Zuni) |
| 2pm | Sky City Buffalo Ram Dancers (Acoma) |
| 3pm | Howeya Family Traditional Dance Group (Acoma) |