Daily Artist Program

---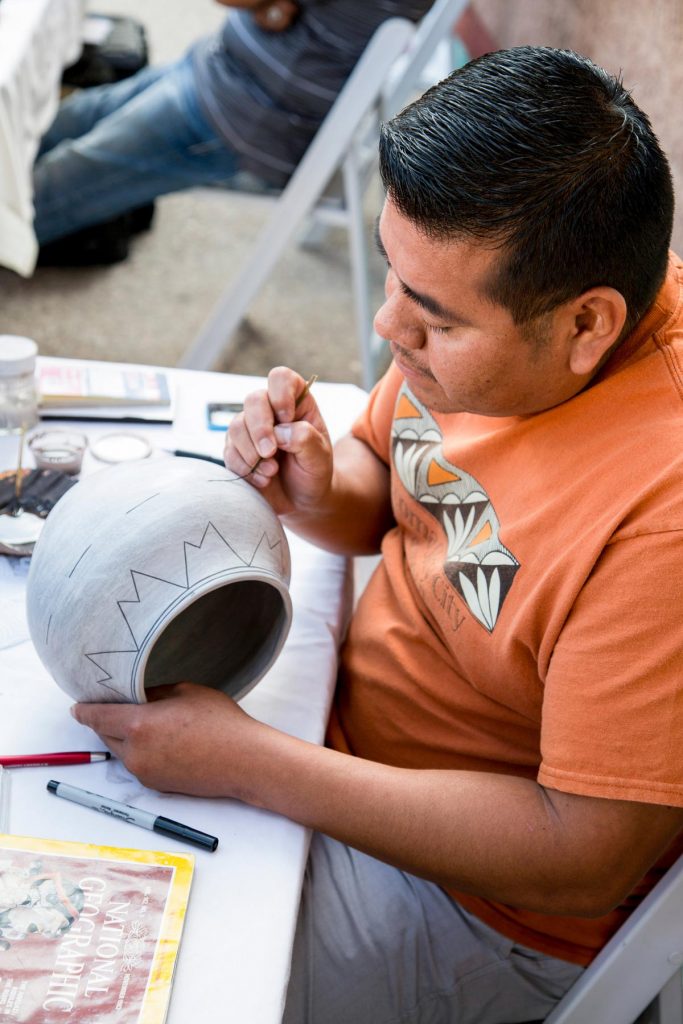 Visiting the Indian Pueblo Cultural Center is an immersive occasion, and the Daily Artist Program provides our visitors with yet another avenue to experience Native American culture. Visitors can interact with artists in our mural-lined courtyard and watch as they make pottery, jewelry, paintings, and other types of traditional and contemporary arts and crafts.
This program supports the mission of the Indian Pueblo Cultural Center by showcasing Native American handcrafted art, creating an outlet for visitors to buy directly from artists, and encouraging dialogue with our guests while educating about Pueblo arts and culture.
Depending on which artists are present when you visit, you may get to see various types of silver and beaded jewelry being made, pottery being painted with traditional natural pigments and handmade yucca brush, Pueblo scenes being painted on canvas, and more.
Purchasing works from artists in our Daily Artist Program is one of the ways visitors can take the IPCC experience home with them, so quality and authenticity are of utmost importance. All artwork made and sold as part of our Daily Artist Program has received approval through our extensive certification process, and complies with the Indian Arts & Crafts Act of 1990. When we reopen, you're invited to come and experience Native American culture firsthand as artists make pottery, jewelry, paintings, and other crafts in our mural-lined courtyard.