Artists Circle Gallery: Amanda Beardsley's "Pueblo Pop"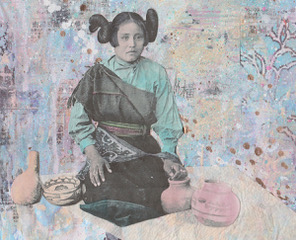 Pueblo Pop by Amanda Beardsley (Laguna Pueblo, Hopi, Choctaw) is currently on display in our Artists Circle Gallery. Amanda's artwork combines traditional Native American themes with contemporary objects, and speaks to a wide audience. Some of her artwork contrasts traditional settings with modern objects that accompany our lives and emphasize our traditional values and the acceptance of change.
Amanda incorporates different mediums to manipulate the emotions of the viewers, such as pop culture images, graffiti media, historical photographs, graphics, motifs, animation, and foreign paper. When these mediums are used, they form a story that connects our people with a contemporary reality.
Amanda's work is influenced by Indigenous history, reading books, watching cable as a kid, Native American artists, childhood memories, graffiti, her Instagram account, and everything Hello Kitty. She is inspired both by contemporary art as well as traditional art, combining both categories to depict new ideas.
While growing up, Amanda watched several family members create works of art. Both her aunt and uncle are jewelers, her cousin carves stone, and her mother makes pottery and beadwork. Artwork hangs on every wall throughout her grandparents' home, and she remembers going from room to room sketching and admiring the works of T.C. Cannon, Helen Hardin, Virginia Stroud, Vincent Van Gogh, and many more.
Amanda hopes to educate people through her artwork by enlarging their understanding of the history of Indigenous peoples. She would like to teach art to children someday, and to different Indigenous communities. She was one of three students from the Institute of American Indian Arts (IAIA) to be selected as a Society for Incentive Travel Excellence (SITE) Scholar and participate in a SITE Santa Fe exhibition.
While attending IAIA, Amanda studied studio arts, and took several courses that helped further her artistic designs, including European Art History, Indigenous Studies, and Southwestern Pueblo Architecture to name a few.
By having a diverse background, Amanda is able to use her cultures, influences, and inspirations to blend together and reveal a whimsical reality. She is grateful for these early influences that guided her youthful endeavors as an artist.
Help support IPCC programs like the Artists Circle Gallery DONATE TODAY