A RETURN TO CULTURE – It All Starts Here
While we don't want to dwell on it, we know very well that there is no one among us who hasn't felt the pain of the pandemic, in big and small ways. Many Pueblo Members and other New Mexicans have experienced illness and endured loss, and our day-to-day activities have been significantly impacted. So even with the sun beginning to peek through the clouds as we start to think about a return to some of our favorite activities, it can feel a little intimidating. Here at the Indian Pueblo Cultural Center (IPCC), our staff is eager to safely facilitate your return to culture, with a reminder that, "It All Starts Here." We chatted with a number of staff members who want to assure our visitors that thanks to careful preparation, including enhanced health and safety measures, we are ready for your return and excited to welcome you back on April 8, 2021.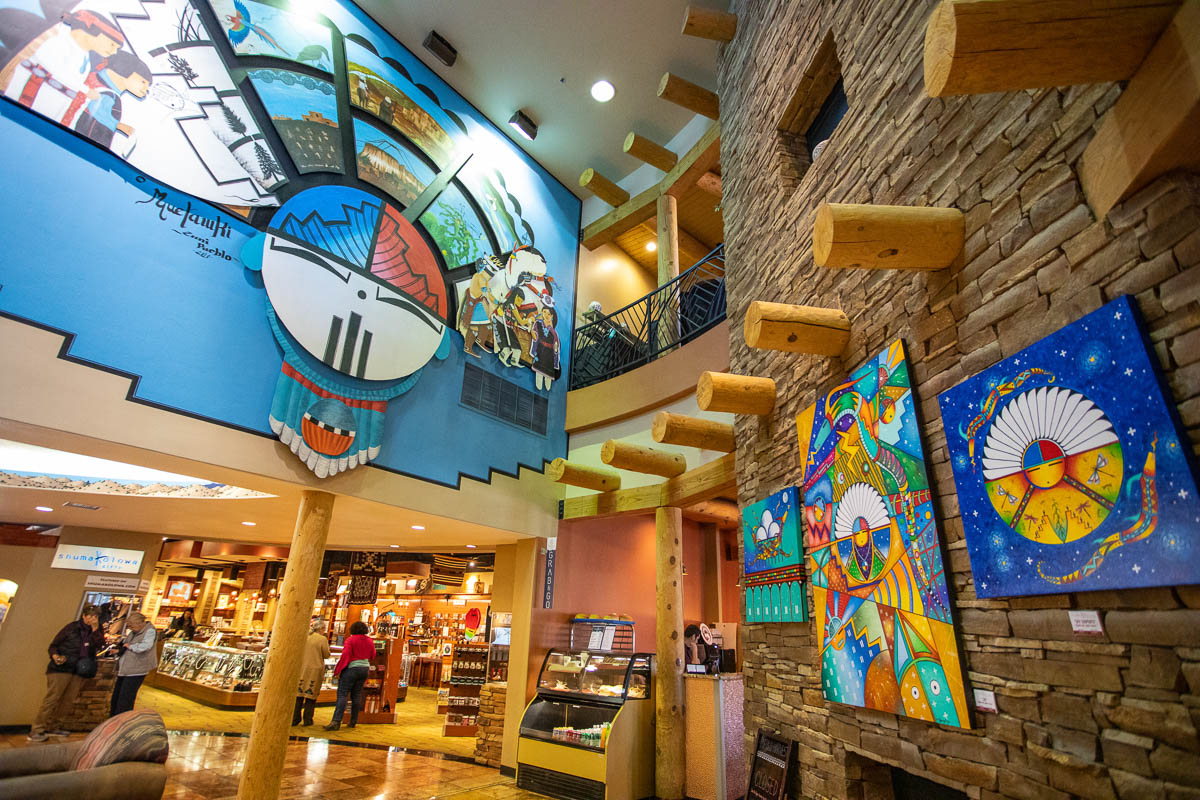 IPCC President and CEO Mike Canfield is among those on our team who is exuberant and enthusiastic about reopening. "Although we are navigating a new path, we promise to deliver an IPCC experience that our customers will enjoy and appreciate, and one that they will determine is well worth "masking up" for. We have missed engaging personally with our valued staff members, and are equally enthusiastic about welcoming back our returning guests as well as new visitors to shop, dine and experience our amazing Pueblo culture first-hand."
Our "new path" is both literal and figurative, with many COVID-safe practices in place to ensure a family friendly and safe environment for your return to our museum, courtyard, Indian Pueblo Kitchen and Indian Pueblo Store. We want you to know what you can expect, and how our own incredible employees are feeling about your return, as well as their own.
It All Starts Here: (a return to) Culture and Education
Starting with the IPCC museum, the state of New Mexico now requires that we track attendance and maintain a reduced capacity. With this in mind, in order to implement a new contact-free system, our admission tickets at $10 per person can be purchased online, which allows us to improve automation, institute contact tracing, and upgrade our health and safety measures. In return, we offer timed entry periods and a comfortable and relaxed tour of our exhibits, galleries and courtyard. Our team has worked diligently to help create a culturally rich and rewarding experience for our guests. Alicia Ortiz, Manager of Cultural Programs (Santa Ana Pueblo), heard from guests who conveyed that they can't wait to come back for the programming, artists and great food. "We are a community, and a family and will always take care of one another and persevere." Alicia tells us that what she looks forward to the most is "connecting with our guests once again."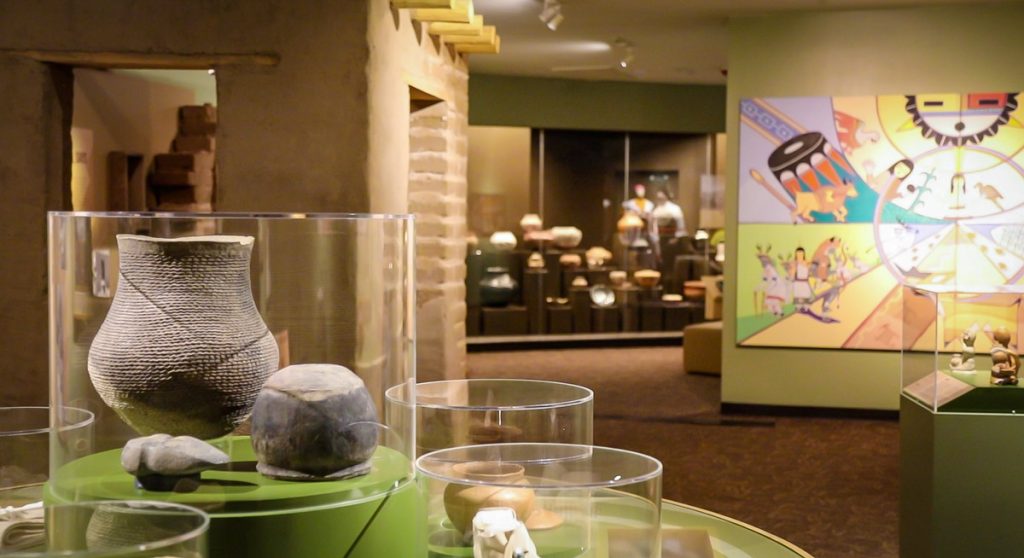 Our Librarian & Archivist Jonna Paden (Acoma Pueblo) has been working to keep our audience informed virtually with the new "Indigenous Connections and Collections" blog, which highlights the histories and stories of Indigenous people around the world, one of the many creative ways that IPCC staff has continued to engage our members and guests during our temporary closure. She expresses her eagerness to serve the public again at the library (for which she will be taking appointments), to "engage, learn and connect to information." You can call the library at 505-724-3548 to request an appointment with Jonna.
Grant Administrator, Norma Restivo, plays a very important role in continuing to secure much-needed grant funding for IPCC. Although she has missed the personal interactions her work normally enjoys she says, "The funders have been attentive, warm and able to provide valuable feedback to our grant-seeking efforts." She also served a key function in the coordination of our Pueblo Relief Fund efforts, a partnership with the All Pueblo Council of Governors to provide essential items such as hand sanitizer and toiletries to each of the 19 Pueblo communities during the pandemic. Many of the beneficiaries expressed how the contributions made a significant impact on the lives of families in Pueblo communities, and have also conveyed, as stated by Governor Brian Vallo of the Pueblo of Acoma, "Collective prayer that we will soon resume cultural practices." It is a wish we plan to help fulfill in the coming months as part of our reopening.
There is also value in pondering those elements in our world that have remained constant despite the pandemic, such as the ongoing care and nurturing of our natural resources. With this in mind, we also had a chance to visit with Shannon Romero, Cultural Education Specialist (Cochiti, Santo Domingo, Navajo), who oversees our resilience garden, a living exhibit and a Pueblo-centric agricultural learning space for all ages. "As we begin to prepare the earth for the gardening season, we pray to our Creator for all that he has provided us, such as water, air, earth, living things, food, and guiding us through our life journey in this world." Shannon also expressed her excitement to have visitors return to the garden. "We look forward to reopening and continuing our growing season this year. We are currently planting traditional foods and plants in the pre-contact area with the assistance of … our volunteers."
It All Starts Here: (a return to) Pueblo Hospitality and Cuisine
According to Dr. Beverlee McClure, Vice President for Cultural and Community Engagement, whether through virtual programming or pre-prepared Indigenous cuisine, her team has remained dedicated to providing exceptional service to their valued customers. "Throughout our temporary closure, IPCC employees have invested the same dedication to quality and genuine commitment to Pueblo hospitality in delivering services, as they did each and every day that our physical doors were open. We are proud of their ongoing efforts which include thoughtful preparation in welcoming back our beloved customers and members."
Exemplifying this philosophy, Sales Coordinator, Analisa Aragon, (Taos Pueblo) tells us, "For as long as I could, I was making sure to check up on all the clients that I was working with. With it being such an uncertain time, I felt that I needed to show compassion to the people who brought their business to us." She explains that working on the Pante Project, our interim program to continue to provide Indigenous food experiences once a month, pre-prepared by Executive Chef Ray Naranjo (Santa Clara Pueblo, Odawa), in which customers enjoyed from the comfort of their homes, gave her a continued sense of fulfillment. "Everyone was so happy and satisfied with the project from execution of the curbside pickup, the video from the Chef, and the meal itself!"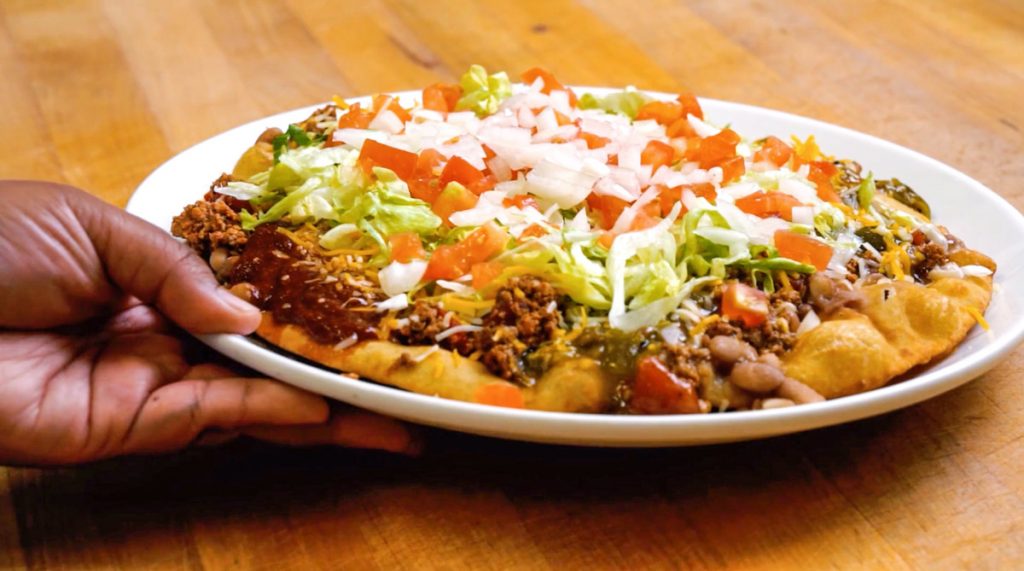 Like many of our regular customers, we are looking forward to enjoying a meal from the Indian Pueblo Kitchen (IPK). Let's face it, the unique and delicious recipes that Chef Ray creates are impossible to duplicate. As part of our reopening efforts, the Chef and his staff have come up with a great new menu that includes many of our traditional favorites, as well as a few new ones, all using fresh Indigenous as well as contemporary ingredients. Channing Concho (Hopi, Acoma and Laguna), Restaurant Supervisor, says she has missed everything about IPK and our customers. "We get to know everyone, from (those of us) within IPCC, to neighbors, to out-of-towners, like family." She can't wait to greet her customers as they come around for a bite to eat, to shop, and to check out the museum, once again. Channing embraces the chance to provide the customary Pueblo hospitality, and see the "look of awe or wow" and the excited exclamations of folks who are blown away by the IPK cuisine. The Indian Pueblo Kitchen (the reimagined IPCC restaurant) will be serving up a few different dining options, including in-person dining, either in our restaurant or on our beautiful patio, as well as contact free to-go orders.
With the reopening, Robert "RJ" Romero, General Manager of Hospitality, is eager to provide an experience that "hits on all the senses" once again, including, as he explains it, the smell of the cedar/piñon during bonfires in the courtyard, the sound of the crackling fire, and the sight of our exquisite murals.
It All Starts Here: (a return to) Artistic Expression and Authentic Pueblo Made Products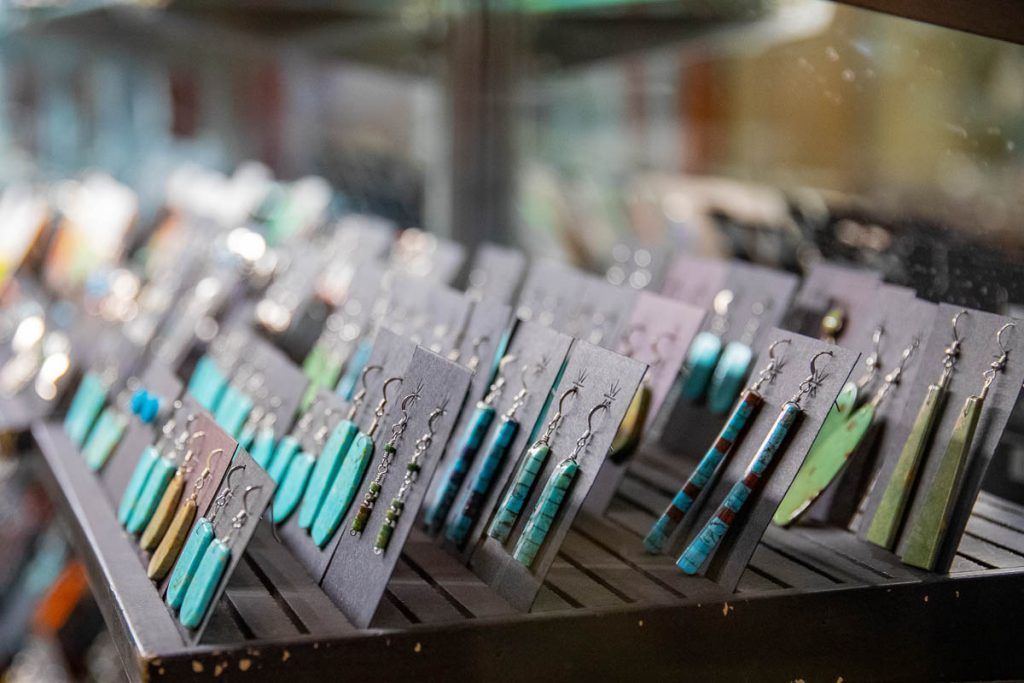 Our courtyard is truly a special place, and in addition to the magnificence of our murals, we look forward to hosting the brilliant Native American artist vendors to sell their one-of-a-kind original works there once again. As the temperatures grow warmer, it will be the perfect time for friends and family to stroll through the courtyard to take in all the sights and sounds.
As you would expect, our Indian Pueblo Store (IPS) continues to be a big draw for people looking to shop a vast array of authentic Native American art, jewelry, food products and a host of other unique Indigenous items. Shane Smith (Navajo), of the IPS is looking forward to seeing his customers again, including both the new and the regular shoppers. "It's just the different personalities they bring that share a liking and respect for culture and traditions……when you see a customer, especially those that make this place a second home, they become family to you."
It All Starts Here: (a return to) our IPCC Family
Not unlike Shane, for many of us, IPCC and all the elements and people that represent the Cultural Center experience, are like a home away from home and a second family. We asked all the employees we talked to share one word that summarizes the emotions they feel about reopening our doors, and came up with a word cloud which we believe collectively and perfectly captures our sentiments, and the concept that "It All Starts Here."