Exploring HERitage

---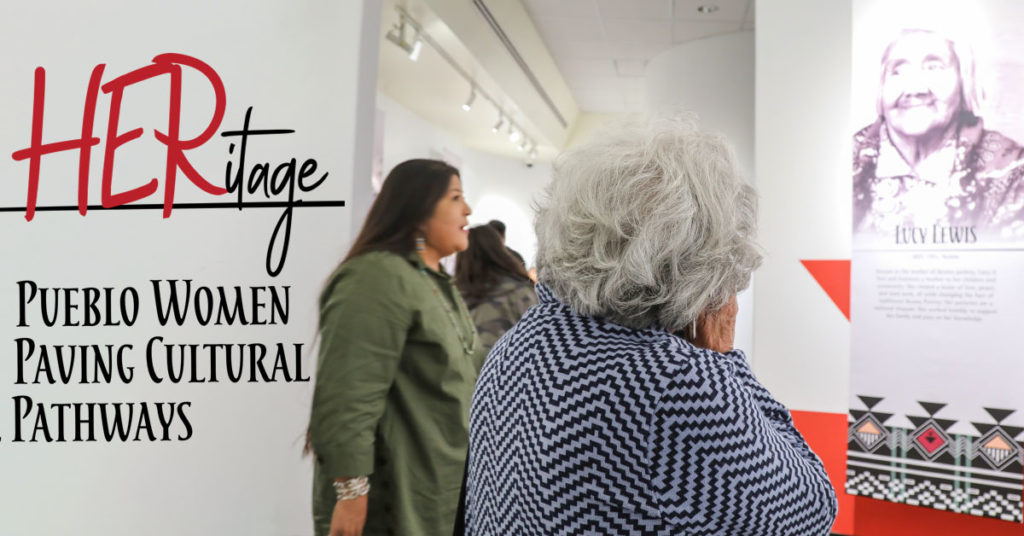 The week leading up to Mother's Day is the perfect time to revisit one of our current rotating exhibits, HERitage: Pueblo Women Paving Cultural Pathways. This remarkable exhibit follows more than a dozen Pueblo women and their accomplishments in their communities, the country, and around the globe.
---
HERitage highlights historical women who have laid a foundation of culture and community, ending with women today who continue to pave the way forward in our communities and beyond. The women of HERitage are scientists, district court judges, Miss Indian Worlds, educators, architects, traditional and contemporary artists, community leaders, and preservers of languages. In several examples, their accomplishments are shown through three generations.
Pueblo communities exist on the path established by our ancestors. Many of us know elders, women, and girls who are forging new and ever-changing paths to continue our ways of life. Every person holds the capacity to be more, and make a better world around us for future generations. We are a community of people that can make a change. Behind us are our ancestors, holding us up and teaching us what it means to persevere.
HERitage showcases generations of knowledge, inspires women and girls, and creates a real feeling of community. When we reopen, we invite you to learn about the great work begun and continued by many great women coming from our 19 Pueblo communities, and how their work impacts our communities and society today.
HERitage was inspired by the great work of our oral history project, "Journeys and Pathways: Oral Histories of Contemporary Pueblo Women in Service, Leadership, and the Arts."