Elder Hands of the Corn Clan: Jemez Pueblo's Juanita Fragua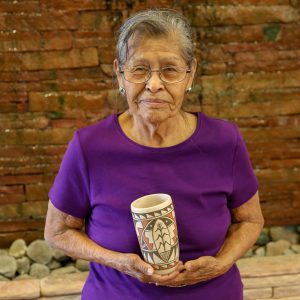 Gratitude for every day that you are able to use your skills and gifts to create is one of the core values of Pueblo potters. Juanita Fragua of Jemez Pueblo has a lot to be grateful for.
At 83, Juanita is a full-time potter. "That's all I do. I have my granddaughter taking care of me. She cleans the house and cooks for me. I just do my thing, and go in the shop and work—all day, every day" she says proudly. When asked if she ever allows herself a break, she says, "I take a break at about three o' clock or something—I get tired so I lay down."
Juanita is known for her wedding vases, which are in demand. "I used to watch my mom make wedding vases, and that's what I'm doing now—always making wedding vases," Juanita says. "People call me when their son or daughter is getting married so I can make a wedding vase for them."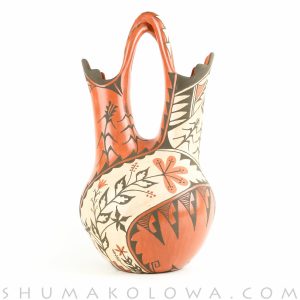 Juanita learned pottery-making from her mother around 1948. "I used to watch my mom making potteries when I was 13 years old. And they used to keep telling me to go ahead and make something," she says. "So I really started about 13 years old, but then I didn't have time, I had to go to school."
School and other obligations came between her and the clay for several years, only allowing for occasional practice. "After I got married … we moved to St. Louis, and I used to make small stuff, and then from St. Louis we moved back, and then we moved to San Francisco," Juanita says. "That's where I really started to do it, too. That was in ['64]."
Taking up the family art more prominently eventually became a necessity. "I said to myself, 'I'll do it because I didn't graduate from high school, and there's no place I can find a job. Maybe if I start doing potteries and sell them, and support my family that way.'"
While living in St. Louis and San Francisco, Juanita made and sold her Jemez pottery. "We used to come home and visit parents, and used to take the clay and all the ingredients [back] out there. I was using commercial paints, but right now I use natural paints. We came back home to the reservation in [1973]."
Juanita's voice carries the weight, wisdom, character, and grace of more than 80 years of life, loss, and love. She is full of humor, and is quick to chuckle. Despite her age, she still goes through her self-described 19-step process of making traditional Jemez pottery—even gathering the white tempering material, a risky undertaking for anyone, regardless of age.
Her skill and large body of work made her a prime candidate for the Pueblo Pottery Mug project. When asked what captured her interest in participating, she says with a laugh, "They asked me! They wanted an elder to do it, so they're all teasing me, telling everybody—I'm 83—that I'm close to 90."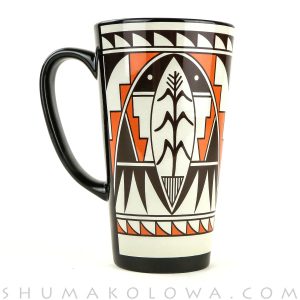 It took Juanita three tries to get the exact shape and size of the mug, but the real challenge was deciding on the imagery.
"They wanted a traditional design, and I had to sit there and think, 'What, what is the traditional design?' So I remembered that my mom was … always using that step design," she says. "That's what my mother used to use, to put on her pottery. When I would do my own, I started putting a corn stalk on them, because we're Corn Clan on my mother's side."
Juanita says deciding on the imagery is always a difficult part, whether with the Pueblo Pottery Mug or a wedding vase. "…And it's so hard, what to put on there. You sit there and look at the pot, 'What kind of designs should I put,' and then I'm looking at the pot, 'What kind of design am I going to put?' and sometimes while I'm looking at a pot, I fall asleep," she admits with a playful and endearing chuckle
Juanita's artistic legacy extends well beyond her own body of work, as her children include accomplished artists—potters B.J. Fragua and Glendora Fragua, and sculptor Cliff Fragua.
Additional background on the Pueblo Pottery Mugs:
In January 2015, five Pueblo potters, Erik Fender (San Ildefonso), Elizabeth Medina (Zia), Frederica Antonio (Acoma), Patricia Lowden (Acoma), and Robin Teller (Isleta), were commissioned by the Indian Pueblo Store to create traditional Pueblo pottery in the form of a contemporary coffee mug, which could be replicated.
The popularity of the mugs prompted the commission of a second series of Pueblo Pottery Mugs, this time with designs by Martha Romero (Nambé), Carlos Laate (Zuni), Denise Chavarria (Santa Clara), Helen Bird (Santo Domingo), and a collaboration from Lisa Holt (Cochiti) and Harlan Reano (Santo Domingo).
Series two debuted with Martha Romero's design just before Christmas 2017, with the others being released at intervals through mid-February 2018. Series three debuted in October 2018 with mugs from Juanita Fragua (Jemez), Clarence Cruz (Ohkay Owingeh), Natalie Sandia (Jemez), Myron Sarracino (Laguna), and Hubert Candelario (San Felipe). The goal is to eventually have potters from each of New Mexico's 19 Pueblos produce a mug design representing their pueblo.
The originals for series one through three are on display at the Indian Pueblo Store, located inside the Indian Pueblo Cultural Center. All of the participating artists receive royalties for each mug sold, with proceeds also supporting the Indian Pueblo Cultural Center and the 19 Pueblos of New Mexico.