U.S. Poet Laureate
This blog aspires to connect readers to Indigenous* resources, information, and fun stuff at the Indian Pueblo Cultural Center (IPCC) and online. Each month, new content will be shared on various themes.
April 2, 2021
This year is the 25th annual celebration of poets and poetry. National Poetry Month started in 1996 by the Academy of American Poets. April was chosen because it seemed the best time of year for the highest level of participation. Every year the United States Library of Congress appoints a Poet Laureate.
Poetry predates written text. The earliest forms of poetry were songs, stories, and oral histories. Researchers believe that poetic stylings – rhyme, arrangement, sound, and meter – were developed to help storytellers memorize stories more easily. Poetry can take us on an emotional journey and open our minds to new concepts.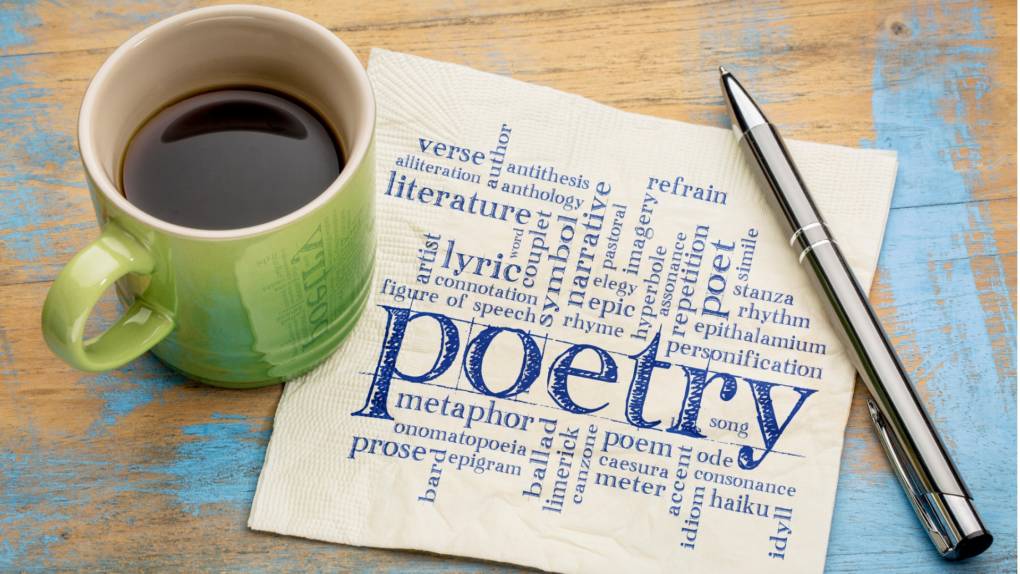 Poets are integral to our culture. They offer remembrance and bear historical witness to meaningful and memorable events. Poets are the voice and articulation of emotions, of policies and social issues and challenges; they present perspective, evoke the senses, and illuminate ideas and reality.
Indigenous poets oppose, question, and combat stereotypes; they articulate struggles, values, cultural disruption and loss. They transport you to their homelands, to the landscape, their family and life. They laud and reflect on cultural existence, belonging, endurance, resistance, visibility, and survival. Native American poets have been honored with various fellowships, awards and grants, have been named a "Living Cultural Treasure", and received various Lifetime Achievement Awards.
The IPCC theme this month is "Pueblo traditions". Readers and listeners will find Pueblo traditions weaved in the words of Indigenous poets because they were raised with those traditions – planting, dances, language, pottery, drum making, and storytelling. Their words take you into their lives, thoughts, and beliefs.
This month's Pueblo Book Club (Tuesday, April 13 from 2:00-4:00 pm MDT) selection is Report on the Department of the Interior: Poems by Diane Glancy.
Poems in this book are constructed as reports to the Department of the Interior and highlight the experiences of those in Indian boarding schools and the fight to maintain traditional ways of life.
---
Monthly Feature: U.S. Poet Laureate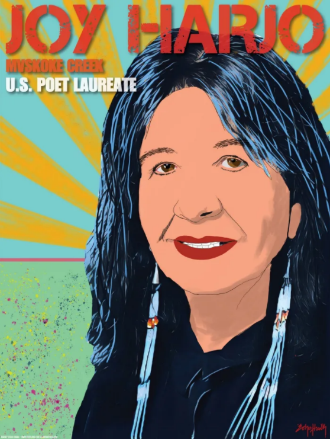 Joy Harjo – Mvskoke (Creek) Nation; editor, musician, poet, professor, screenwriter
Born in Tulsa, Oklahoma, Joy left home to attend high school at the Institute of American Indian Arts. She received a BA from the University of New Mexico and was accepted to the Iowa Writers' Workshop, where she received an MFA in Creative Writing. She has many literary awards, honors, and fellowships. Harjo has written nonfiction, memoirs, plays, and award-winning children's and poetry books.
She is also an award-winning saxophonist and vocalist; she has released albums of music and poetry. Influenced by jazz music, she learned to play the saxophone to deepen the impact of her spoken word poetry. She also plays the Native American flute, ukulele, and drums. "Music is central to poetry and to my experience of poetry." (Young)
On June 19, 2019, the Librarian of Congress appointed Harjo the 23rd Poet Laureate. She was reappointed to a second term on April 30, 2020 and a third term on November 19, 2020. She is the first Native American poet to serve in that position.
Recorded on November 12, 2019, Joy Harjo begins her formal duties with an inaugural poetry reading and musical performance.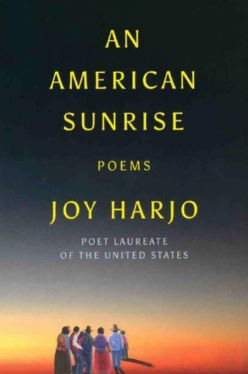 2020 Oklahoma Book Award Winner. In An American Sunrise, Harjo returns to Okfuskee – near present-day Dadeville, Alabama – the homelands from which the Muscogee Creek were removed in 1830 as a result of the Indian Removal Act. She writes, "I returned to see what I would find, in these lands we were forced to leave behind."
Discussion Questions: https://www.arts.gov/initiatives/nea-big-read/american-sunrise
In November, An American Sunrise was the Pueblo Book Club selection. Joy made a special appearance. View the recording here.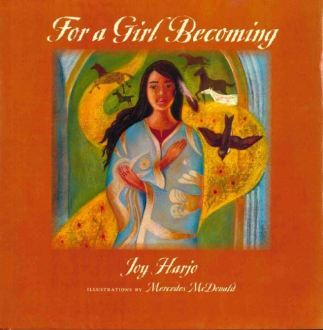 Beautifully illustrated by Mercedes McDonald, For a Girl Becoming, is a poetic tale of the joys and lessons of a girl's journey from birth to youth and adulthood.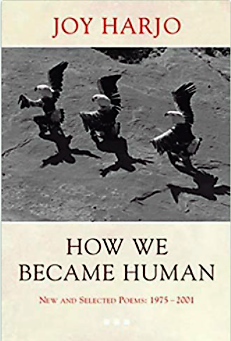 Pueblo Poets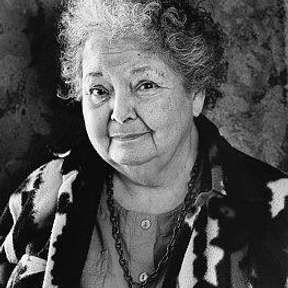 Paula Gunn Allen (1939–2008; Laguna Pueblo) editor, poet, professor, writer
Much of Paula's writing centers on Native American women, from misconceptions to the significance and roles of Native women as creators and teachers, to feminism and lesbianism. She examines the effects of colonization by Western society and the influence of oral tradition on contemporary literature. She wrote poetry, fiction, nonfiction, and a biography about Pocahontas. IPL online resources: https://www.ipl.org/div/natam/bin/browse.pl/A10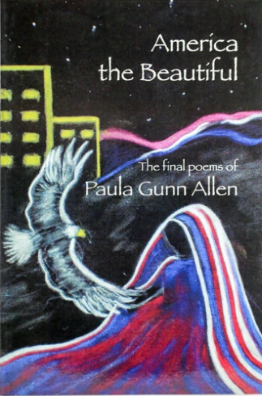 American the Beautiful: Last Poems (2010) was written in the last decade of Paula's life and the first years of the new century. A powerful, sustained lyrical and narrative sequence written in the midst of political and personal catastrophe (the second U.S. invasion of Iraq, a disastrous home fire, her own battle with lung cancer), Allen's last book of poems is at once a bonfire made up of the ruins of civilization, a call for one more effort to set things right, and a gift to us all from this fertile and generous writer. (University of New Mexico Press)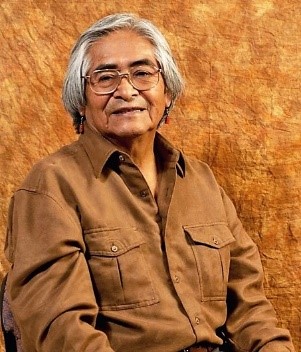 Simon J. Ortiz (Acoma Pueblo), author, editor, poet, professor, public speaker, veteran (Army)
Ortiz has written children's books, a memoir, fiction, nonfiction, and short stories, and has served as editor of various books and anthologies. Considered one of the literary giants of Native American literature, his cultural identity and the Acoma oral tradition infuse his writings. Themes in his writing are the land and the values of the Acoma community. He has won several awards and was the Honored Poet at the 1981 White House Salute to Poetry. He founded and coordinated the Indigenous Speakers Series at Arizona State University.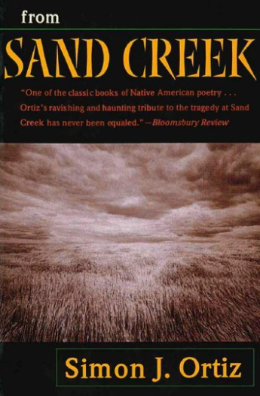 From Sand Creek (1981) won the 1981 Pushcart Prize for poetry. This volume makes a statement about injustices done to Native peoples in the name of Manifest Destiny. It also makes poignant reference to the spread of that ambition in other parts of the world–notably in Vietnam–as Ortiz asks himself what it is to be an American, a U.S. citizen, and an Indian.
Indian people have often felt they have had no part in history, Ortiz observes, and through his work he shows how they can come to terms with this feeling. He invites Indian people to examine the process they have experienced as victims, subjects, and expendable resources–and asks people of European heritage to consider the motives that drive their own history and create their own form of victimization. (The University of Arizona Press)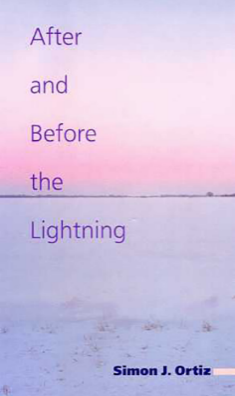 After and Before the Lightning (1994)
Ortiz spent a winter in South Dakota, teaching at Sinte Gleska College on the Rosebud Lakota Sioux Reservation. The bitter cold and driving snow of a prairie winter were a reality commanding his attention through its absolute challenge to survival and the meaning of survival.

Simon's way of dealing with the hard elements of winter was to write After and Before the Lightning, prose and verse poems that were his response to that long season between the thunderstorms of autumn and spring. In these poems, . . . he charts the vast spaces of prairie and time that often seem indistinguishable. As he faces the reality of winter on the South Dakota reservation, he also confronts the harsh political reality for its Native community and culture and for Indian people everywhere. (The University of Arizona Press)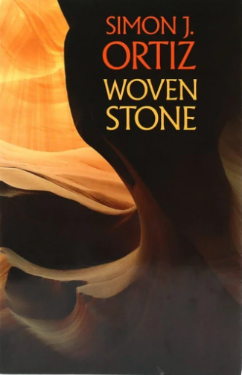 Woven Stone (1992), a blend of poetry and prose from three earlier volumes that is an autobiography. Going for the Rain (1976) expresses closeness to a specific Native American way of life and its philosophy and is structured in the narrative form of a journey on the road of life. A Good Journey (1977), an evocation of Ortiz's constant awareness of his heritage, draws on the oral tradition of his Pueblo culture. Fight Back: For the Sake of the People, For the Sake of the Land (1980)—revised for this volume—has its origins in his work as a laborer in the uranium industry and is intended as a political observation and statement about that industry's effects on Native American lands and lives. (The University of Arizona Press)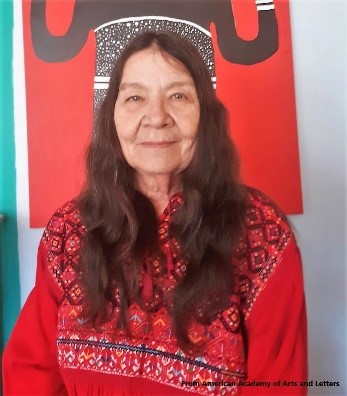 Leslie Marmon Silko (Laguna Pueblo); poet, professor, writer
Leslie's first published book of poetry is Laguna Woman Poems (1974). Storyteller (1981) contains poetry, photographs, family history, and stories. Because her University of New Mexico professor told her to write what she knows, her poetry is based on traditional Laguna Pueblo stories and legends she learned from her family.
Indigenous Poets and Poetry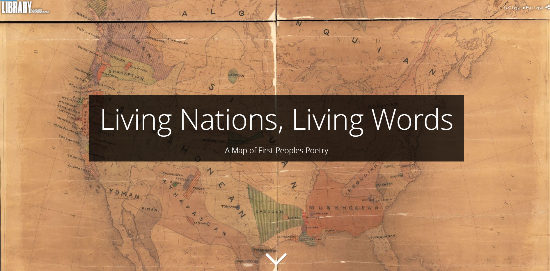 As Poet Laureate, Joy Harjo's signature project is Living Nations, Living Words, which introduces Native poets that live in the United States. It features a sampling of work by 47 poets through an interactive Story Map and a Library of Congress audio collection. The poets chose their poem and commentary based on the theme of place and displacement, with four touchpoints in mind: visibility, persistence, resistance, and acknowledgement.
Other resources: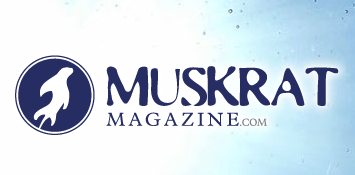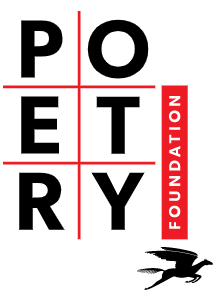 Fun Stuff
In 2003, teacher and poet Timothy P. McLaughlin founded the Spoken Word Program at SFIS, inviting students to create and perform original poems centered in Native philosophies. It went from a club to a class. The class ended in 2011. Clara Natonabah (Diné), one of the students featured in the documentary, teaches a SFIS performing arts class that incorporates poetry in many projects.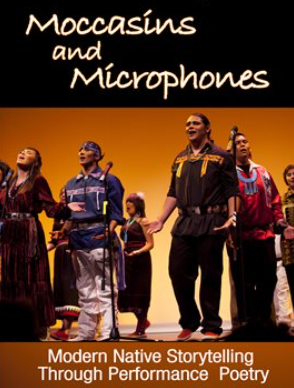 Moccasins and Microphones: Modern Native Storytelling through Performance Poetry (2012)
Moccasins and Microphones explores the fascinating world of a dynamic team of Indigenous youth writers from the Santa Fe Indian School (SFIS) in New Mexico. Led by teacher and poet Timothy P. McLaughlin, the SFIS Spoken Word Program empowers its student members to create and perform original poems centered in Native philosophies. This documentary journeys with the SFIS Spoken Word Team as the core group prepares and presents a theater production of their finest poems woven with traditional and contemporary song and dance. The young SFIS poets continue the ancient tradition of Native storytelling through the powerful new medium of performance poetry. (EPF Media)
The documentary was nominated for Best Spoken Word Recording at the 2011 Native American Music Awards.
Study guide: https://b3592397-da31-4153-8c25-f195009d401f.filesusr.com/ugd/985327_485f3fae744d486a936e02b8c7cda759.pdf?index=true
Spoken word poetry has roots in oral traditions and performance. It can include elements of rap, hip-hop, storytelling, theater, and music. Presentations might also incorporate sound, dance, and other kinds of performances. Spoken word poems frequently address issues of social justice, politics, race, and community.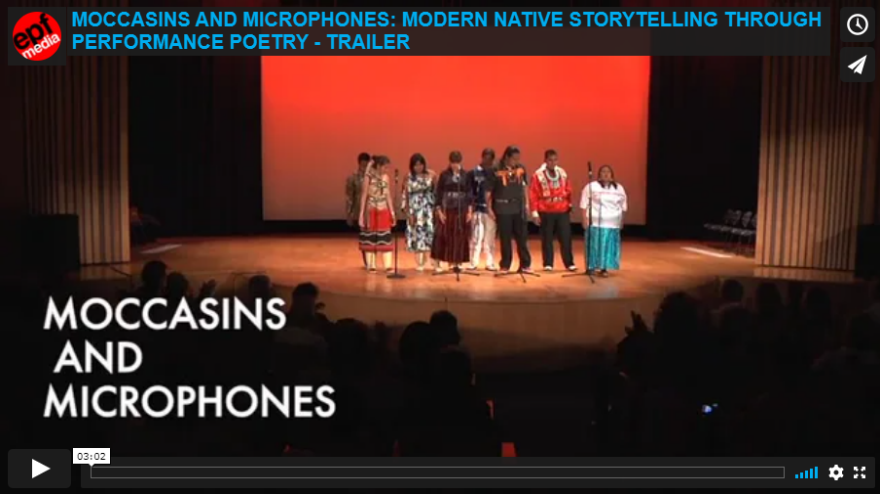 You can view Moccasins and Microphones through your local public library and Hoopla, which provides DVDs, CDs, and audiobooks to public libraries across North America. Use your library card to check out movies, TV shows, music, audiobooks, eBooks, and comics.
*The term Indigenous is used broadly to include those labeled Native American, American Indian, Alaska Native, Native Hawaiian, First Nations, Aboriginal, and others like the Sami (Finland) and Ainu (Japan). Native American and American Indian are used interchangeably in this blog.
---
References
National Poetry Month FAQ. (n.d.) Retrieved from https://poets.org/national-poetry-month/faq
Karvar, Q. (1987, January 25) The sacred hoop: Recovering the feminine in American Indian tradition by Paula Gunn Allen. The Los Angeles Times. Retrieved from https://www.latimes.com/archives/la-xpm-1987-01-25-bk-5588-story.html
Poetry 101: Learn about poetry, different types of poems, and poetic devise with examples. (2020, November 8) Retrieved from https://www.masterclass.com/articles/poetry-101-learn-about-poetry-different-types-of-poems-and-poetic-devices-with-examples#what-is-a-stanza
An American Sunrise. (n.d.) Retrieved from https://www.arts.gov/initiatives/nea-big-read/american-sunrise
Simon J. Ortiz. (n.d.) Retrieved from http://nativeamericanlit.com/ortiz.html
Poet Laureate. (n.d.) Retrieved from https://www.loc.gov/programs/poetry-and-literature/poet-laureate/
What is poetry? (n.d.) Retrieved from https://poetry.wordpress.com/what-is-poetry/
Uttley, C. (2021, February 17) How Poetry Works. Retrieved from https://entertainment.howstuffworks.com/arts/literature/poetry7.htm
Young, E. (2019, August 13) Joy Harjo's new poetry collection brings Native issues to the forefront. Smithsonian Magazine. Retrieved from https://www.smithsonianmag.com/arts-culture/joy-harjos-new-poetry-collection-brings-native-issues-forefront-180972889/
About the Author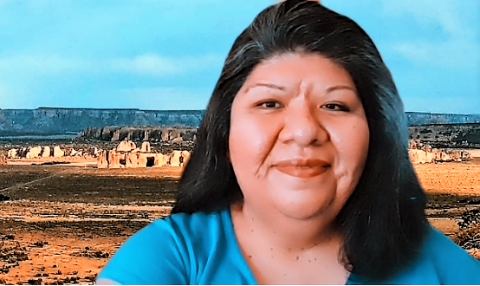 Jonna C. Paden, IPCC Librarian and Archivist, is a tribally enrolled member of Acoma Pueblo. As part of the Circle of Learning cohort, she holds a Masters in Library and Information Science from San José State University where she focused on the career pathway of Archives and Records Management. She is the archivist for the New Mexico Library Association (NMLA) and the 2020 and current Chair for the New Mexico Library Association (NMLA) Native American Libraries – Special Interest Group (NALSIG).
---