Pueblo Book Club: "Eva Mirabal: Three Generations of Tradition and Modernity at Taos Pueblo"
@ In-person and Virtual
Tuesday
02.14, 2023

02:00 pm - 04:00 pm MST
This Pueblo Book Club will be offered both online (Zoom) and in person in the Chaco III room at the Indian Pueblo Cultural Center at 2pm. This book is available for purchase at the Indian Pueblo Store and online here.
The interest in Indigenous, Native American culture has had complex a history, beginning with grave robbers who sought to cash in on the antiquities of Indigenous ancestral sites to collectors of contemporary Native American… continue reading description below.
Talking points and discussion topics:
Had you known about Eva Mirabal before reading this book?
If you had known of Eva, how did you come to know of her?
What is it about Eva's creativity which you connect with?
Have you had the opportunity visit the Taos Pueblo?
Do you see the connection she has made with her community?
If you had an opportunity to ask Eva a question, what might that be?
The deadline to register is the day before the event. February 13, 2023 11:59 PM. Register here.
While this is a free event, there is a $5 suggested donation. You can donate here or in person. Thank you for participating in our virtual Pueblo Book Club. Each participant is important and valued, we welcome your participation. Below is the outline and etiquette for our online portion of the book club.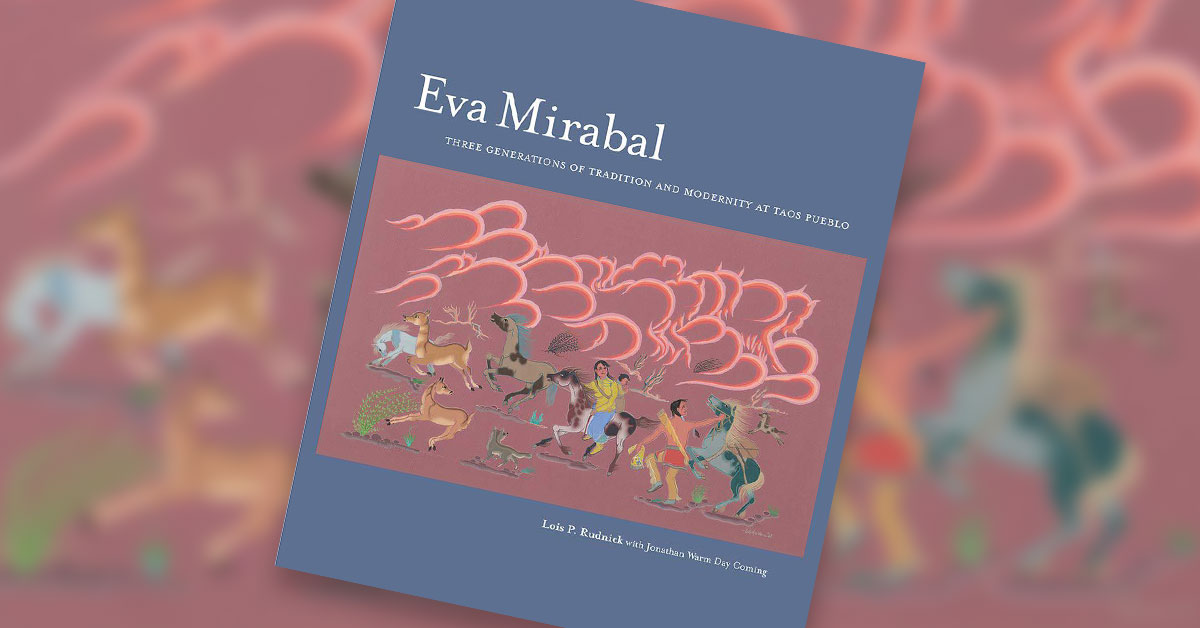 More Details, Zoom Outline, and Etiquette
Description continued
…art by talented artisans, who are the product of exceptional art institutions and training programs. However, as it is often times stated, 'art is in the eye of the beholder' and this is most evident in the history, legacy, and artistry of Taos Pueblo member, Eva Mirabal. Her traditional Taos Pueblo name, Eah-Ha-Wa, meaning Fast Growing Corn, exemplifies the creativity and connection to her Pueblo community.
Drawing from her traditional foundation of her Taos Pueblo, the instruction she gained as a student at the Dorothy Dunn Studio Art Program in Santa Fe, New Mexico, and then her exposure to techniques and influences during her service as a member of the US Woman's Army Corps (WAC), Eva was the only Native American 'full-time artist', who is credited with the publication of then female military character, 'G.I. Gertie'. She served in the WAC during Second World War.
Though this experience, Eva acquired other acknowledgements and sought after prominent mural commissions. Although Eva Mirabal passed away in 1968, her work is still part of the collections at the Eiteljorg Museum of American Indians and Western Art, in Indianapolis, Indiana. Part of her legacy is that after the war, Eva continued her creativity and imagination as a Pueblo artist with continued paintings and as a visiting professor of art at Southern Illinois Normal University. This and more are what we will learn about Eva Mirabal, Taos Pueblo artist.