Clay Line of the Red Willow People: A Showcase of Three Taos Pueblo Artists
Showing in the Artists Circle Gallery January 20, 2023 Through May 22, 2023
Clay Line of the Red Willow People: A Showcase of Three Taos Pueblo Artists, opens January 20, 2023, with a public reception from 5 – 7, in Artists Circle Gallery at the South Entrance. The exhibition runs through May 22, 2023.
This exhibition affords the opportunity to see Taos Pueblo at its finest through the eyes of three talented artists who were born and raised in this community. Taos Pueblo is and has been a thriving Native community, before contact and earlier. Located in Northern New Mexico, the Pueblo is designated as a World Heritage Site for being the longest continually inhabited community.
Through their art work, these three artists represent the resilience and beauty of the Pueblo that exists today. The commonality is clay, mud, the ground, and the strength this holds for them as Red Willow People.
The clay is the life line that runs through the imagery that each artist makes visible in their work and design.
The three artists are: Angie Yazzie, Micaceous Potter; Brian Taaffe, Painter; Deborah Lujan, Photographer. Each of these artists bring their perspective of how they are grounded in the beauty of their surroundings through their art.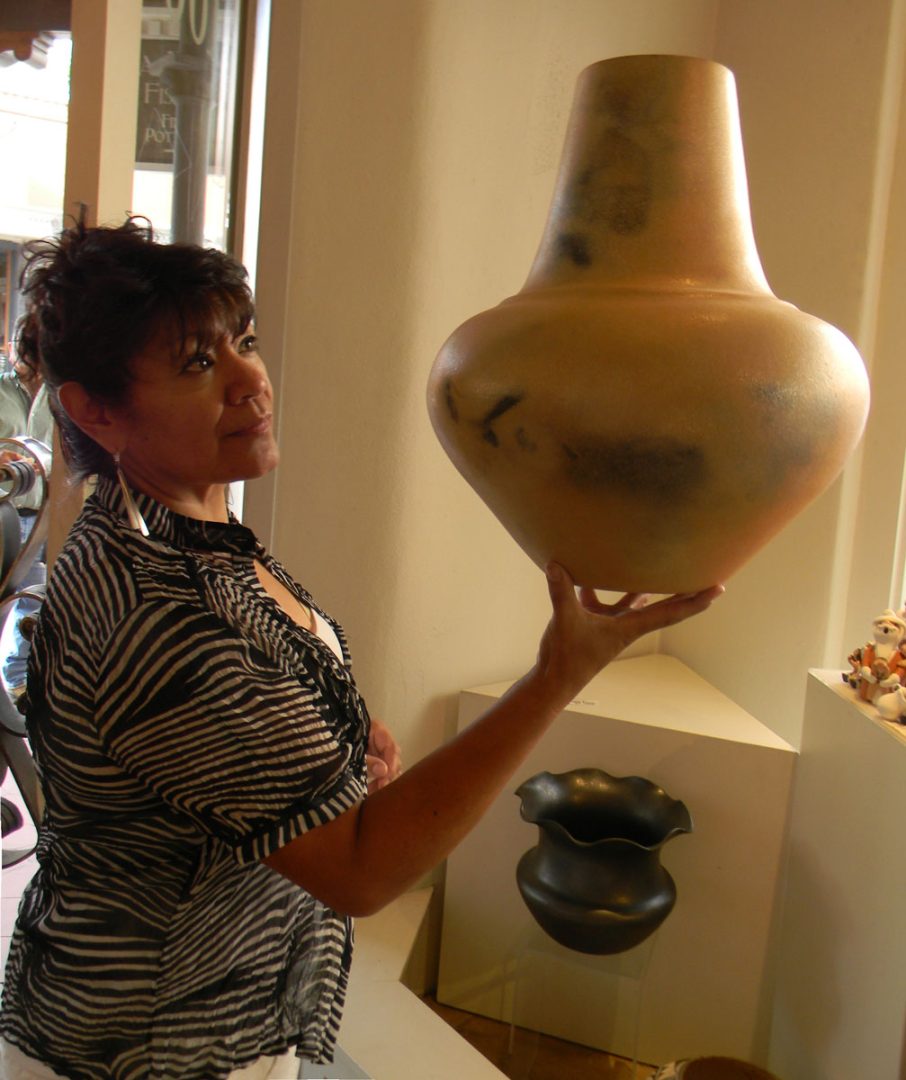 Angie Yazzie
Angie Yazzie has been creating pottery with the traditional Taos clay for many years. Her work is in the permanent collection at the Wheelwright Museum in Santa Fe, Millicent Rogers Museum in Taos, Museum of Indian Arts and Culture in Santa Fe, Nelson Atkins Museum of Art in Kansas City and the Cincinnati Museum in Ohio. Her pottery can also be found at Andrea Fischer Gallery and King Gallery, Santa Fe, NM.
Reference and Recommended Reading: "ALL THAT GLITTERS: The Emergence of Native American Micaceous Art Pottery in Northern New Mexico," by Duane Anderson. 1999. School of American Research Press, Santa Fe, NM.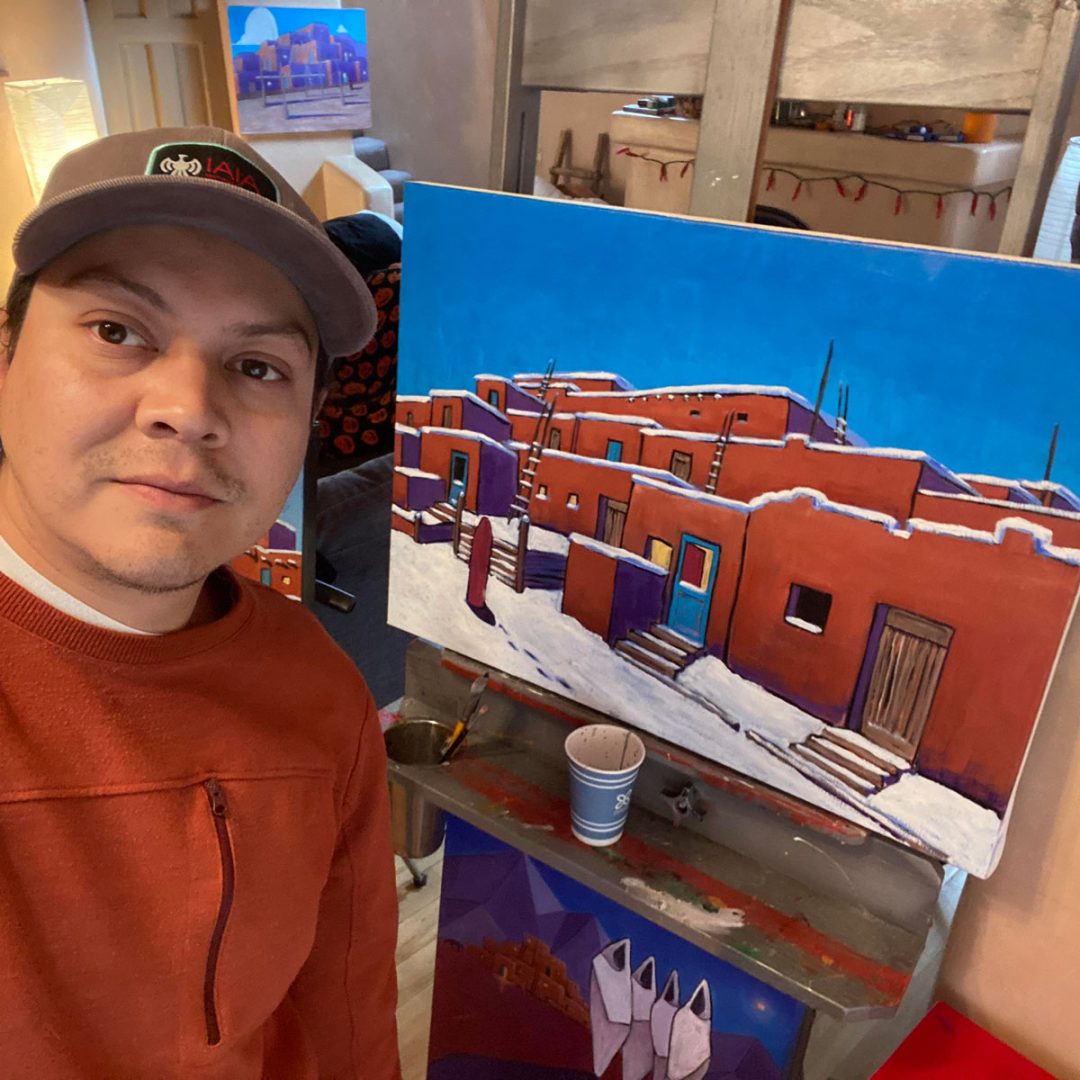 Brian Taaffe
Brian Taaffe is currently a student at the Institute of American Indian Arts working toward his BFA with an emphasis in painting and printmaking. His most recent exhibition was Sovereign Santa Fe Show, during Santa Fe Indian Market. "The feel and inspiration I have comes from my home of Northern New Mexico and Taos Pueblo. It's a very special place and I want to show my viewers how I see and feel about the Pueblo."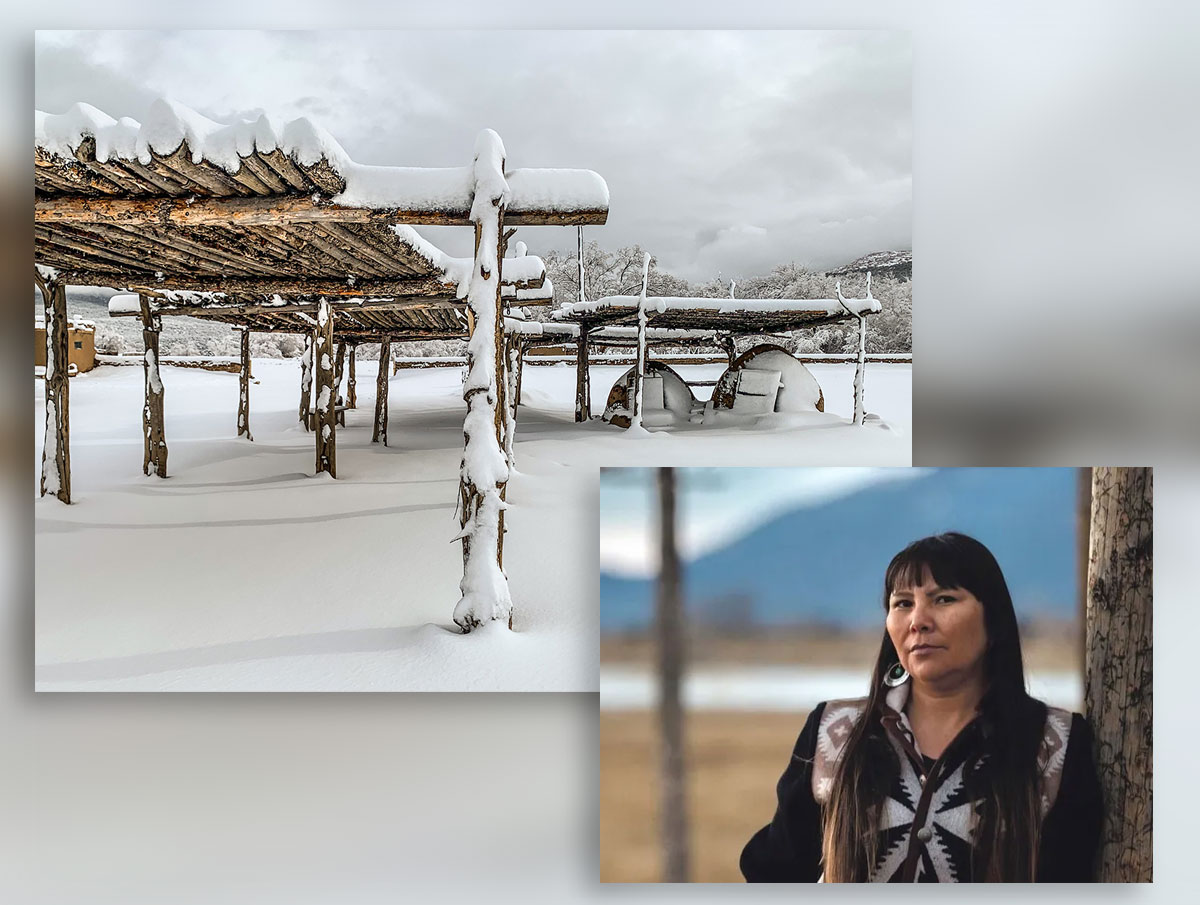 Deborah Lujan
Deborah Lujan is a photographer who brings with her a view of the Pueblo through her lens. She is recognized for capturing nature's effect on the ancient architecture and her ability to convey a sense of intimacy with each of her images. As a result, her photography illustrates a strong sense of composition, depth, and the intersection of light and shadow that evokes both movement and internal rhythm.  Her authentic take of the distinguishable architecture of the historic Taos Pueblo is unique. She cites her influences as Ansel Adams, Imogene Cunningham, & Herb Ritts. More of her work can be seen at her website: https://deborahlujanphotography.com
Photos from the Members Opening Preview